Meet our First Competition-Winning Doll: Nicky
Learn all about our fan collaboration!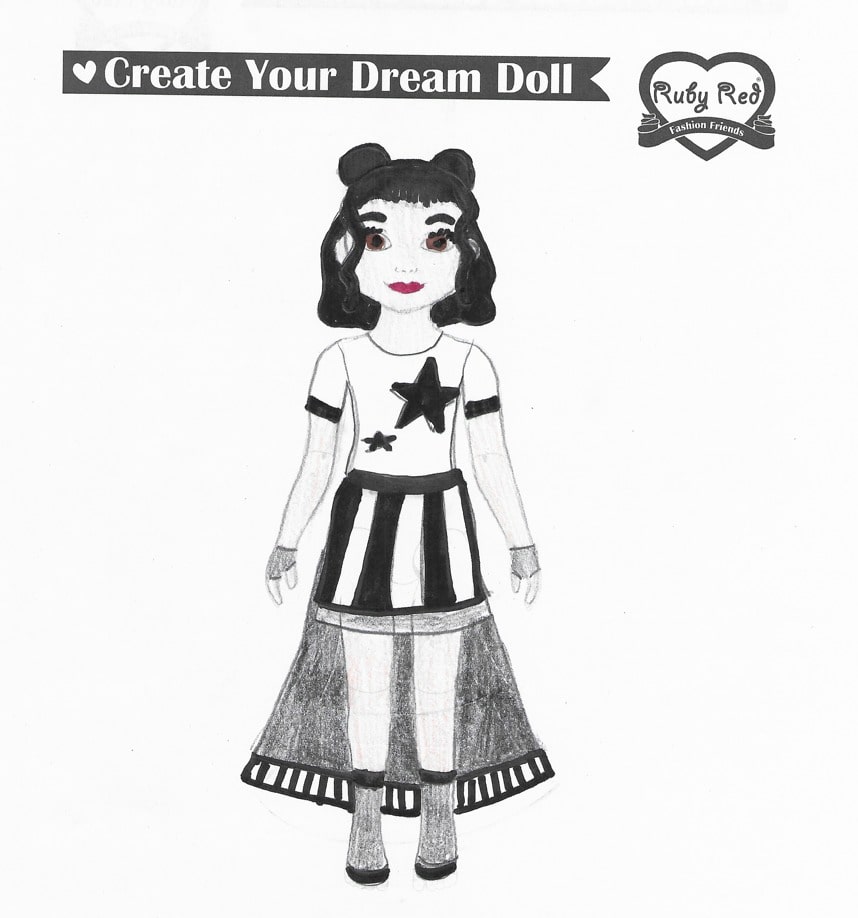 Azaria Summer Kelly's Original Sketch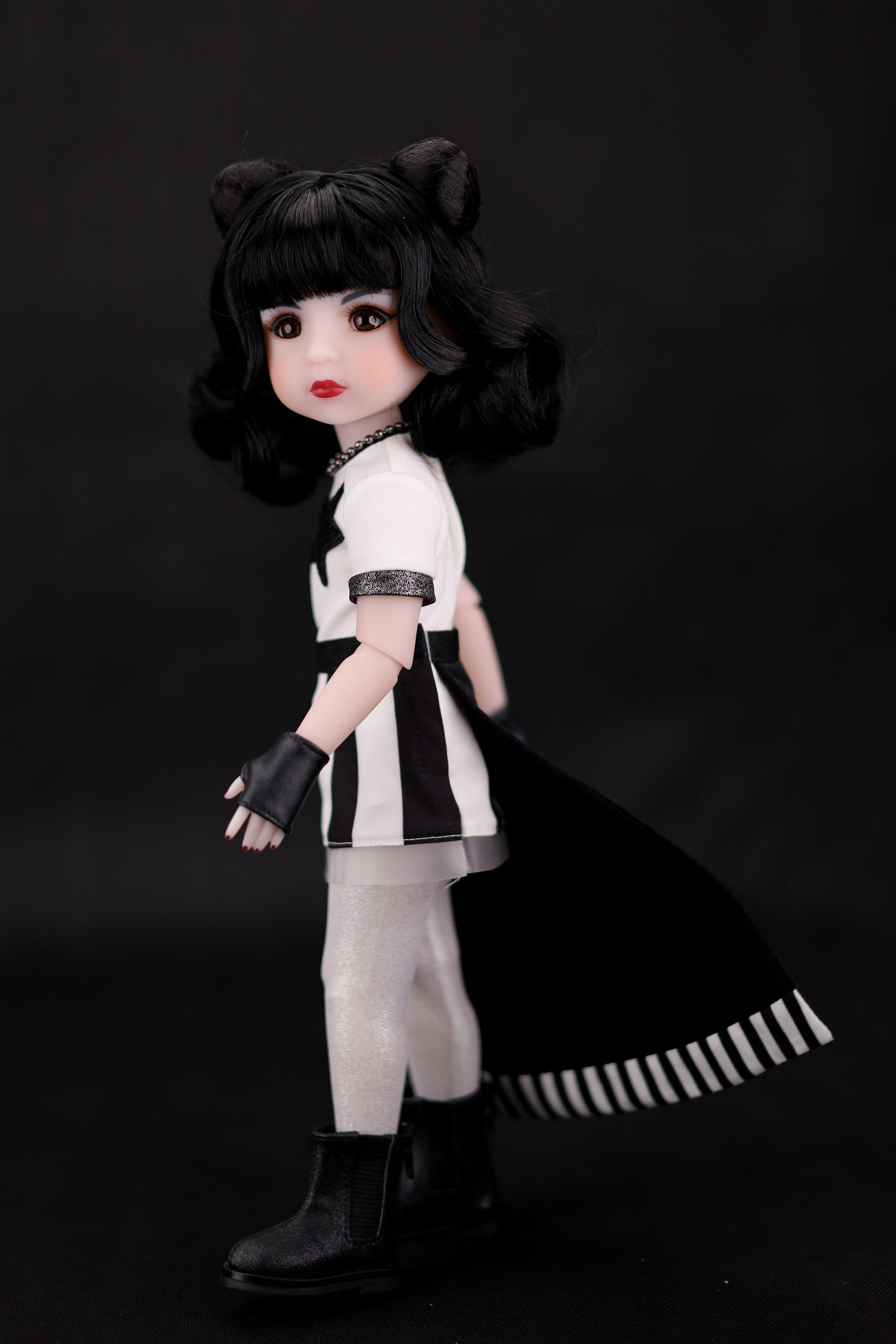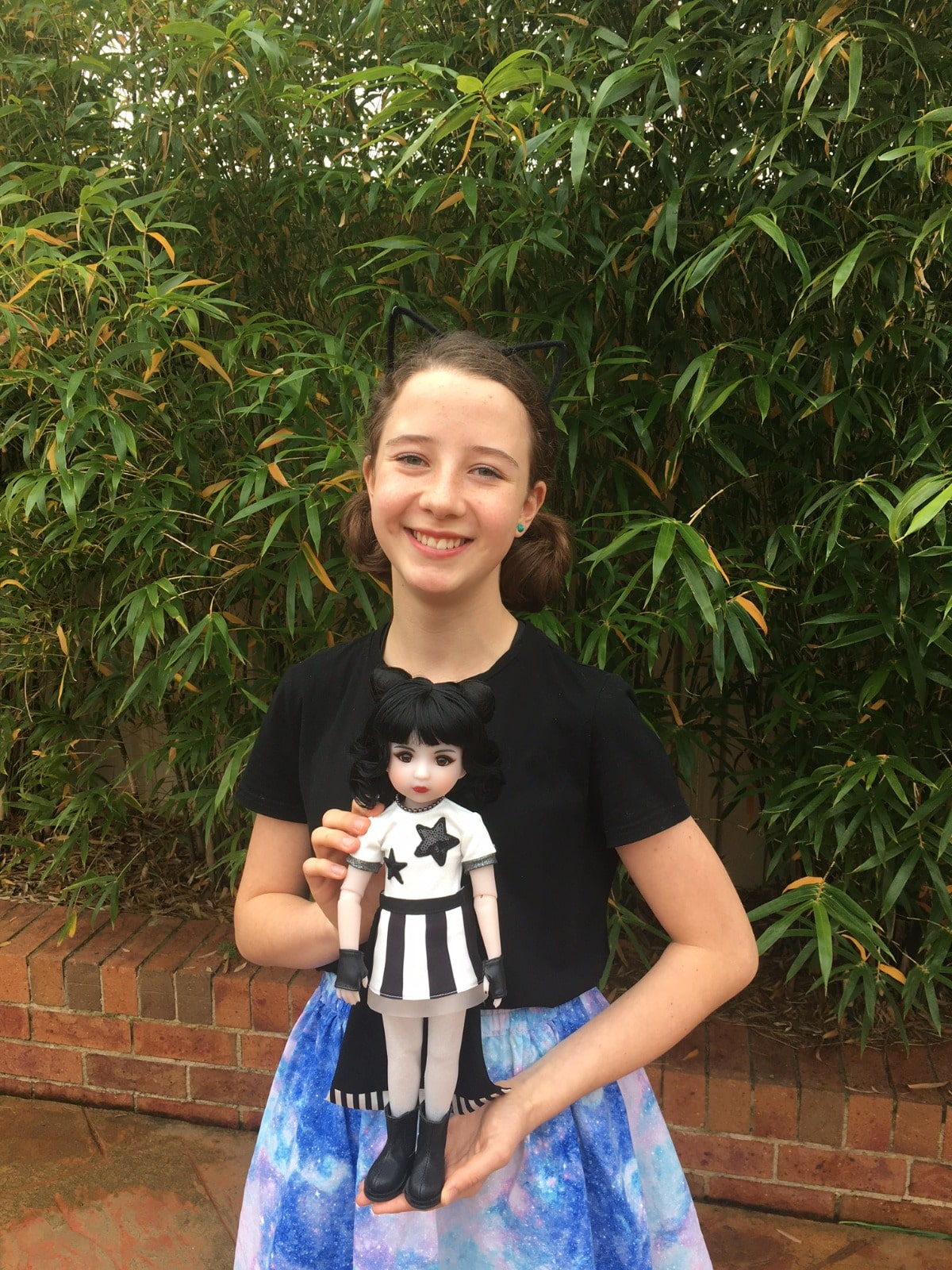 Azaria Summer Kelly holding the doll she designed 
Azaria unboxing her special gift 
After months of tense anticipation, we are finally ready to release the first of our competition-winning dolls! This doll was designed by Azaria Summer Kelly (Age 12), read her story here:
This is Nicky. She loves anything black and white. She wanted to start her own business where she paints black and white pictures. First people didn't like any of her pictures. But one day, a woman dressed fully in black and white saw Nicky's paintings. She told Nicky that they were the best artworks she had ever seen. She bought one and put it up in her house.
That day proved to Nicky that if you keep working towards your dreams you will fulfill them. All she needed was one person to show her that her work was appreciated. She never gave up on believing after that. She knew that she could do anything if she believed.
                                                                       By Azaria Summer Kelly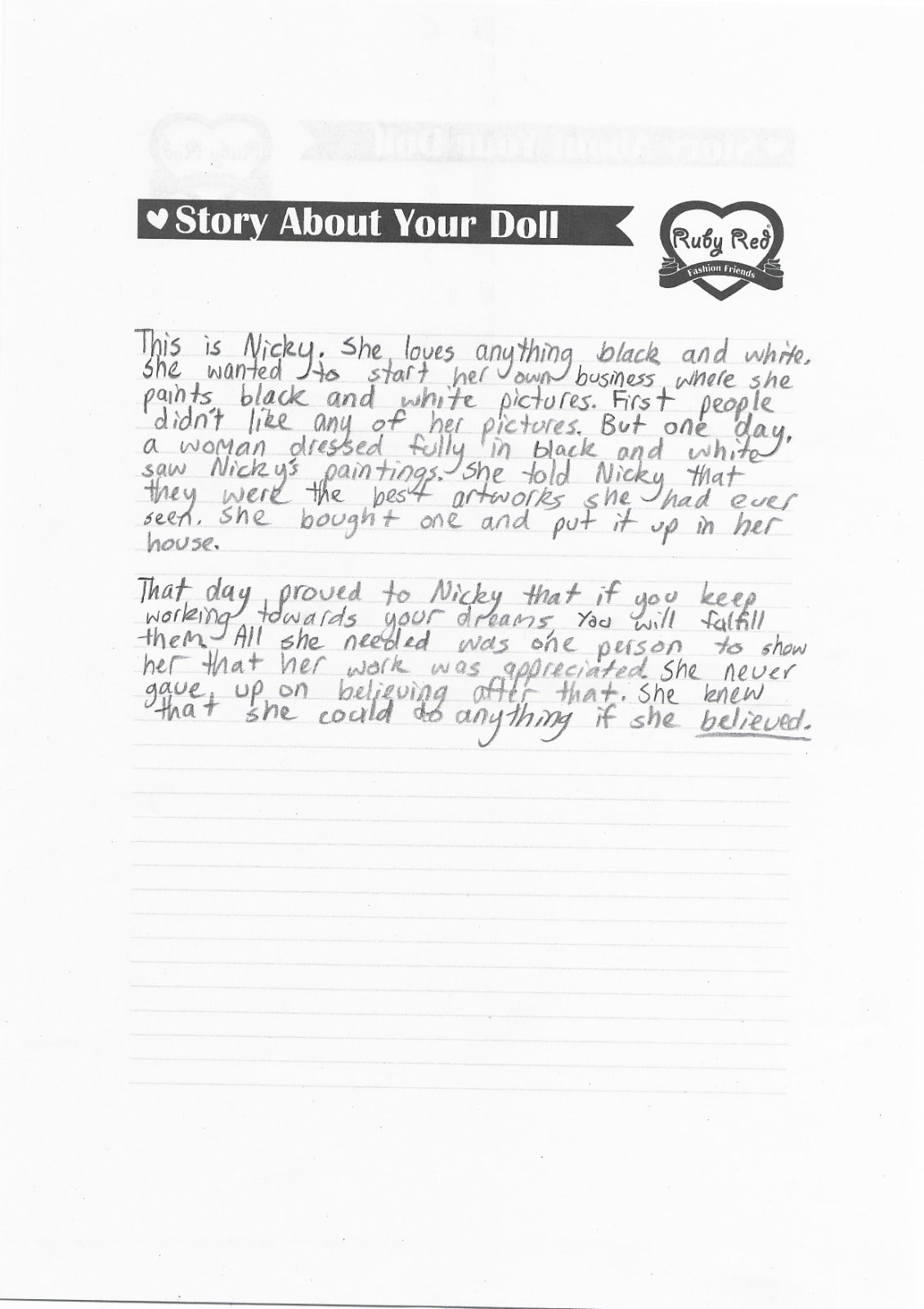 Nicky's Story by Azaria Summer Kelly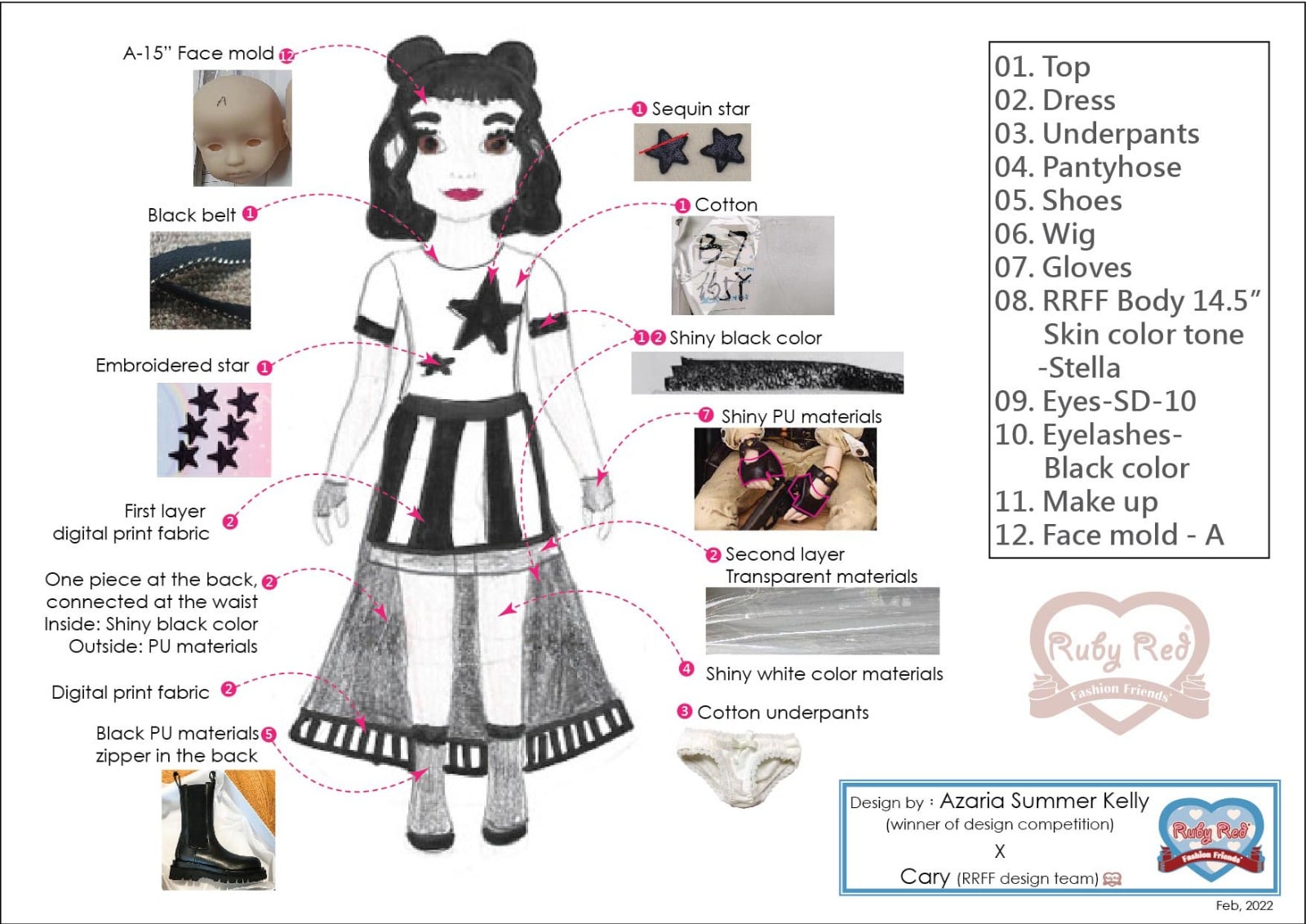 Our Designer Cary's work with Azaria's design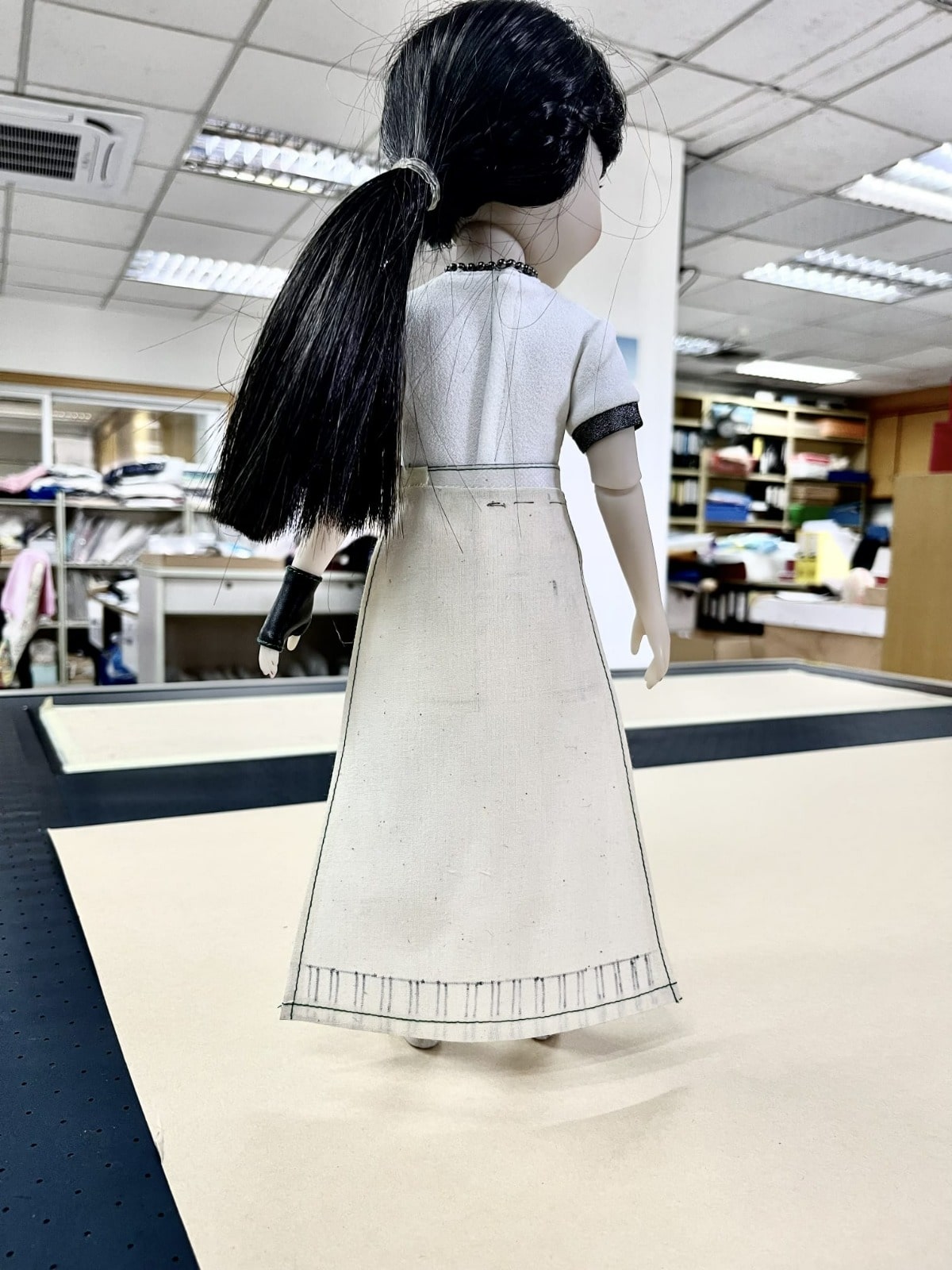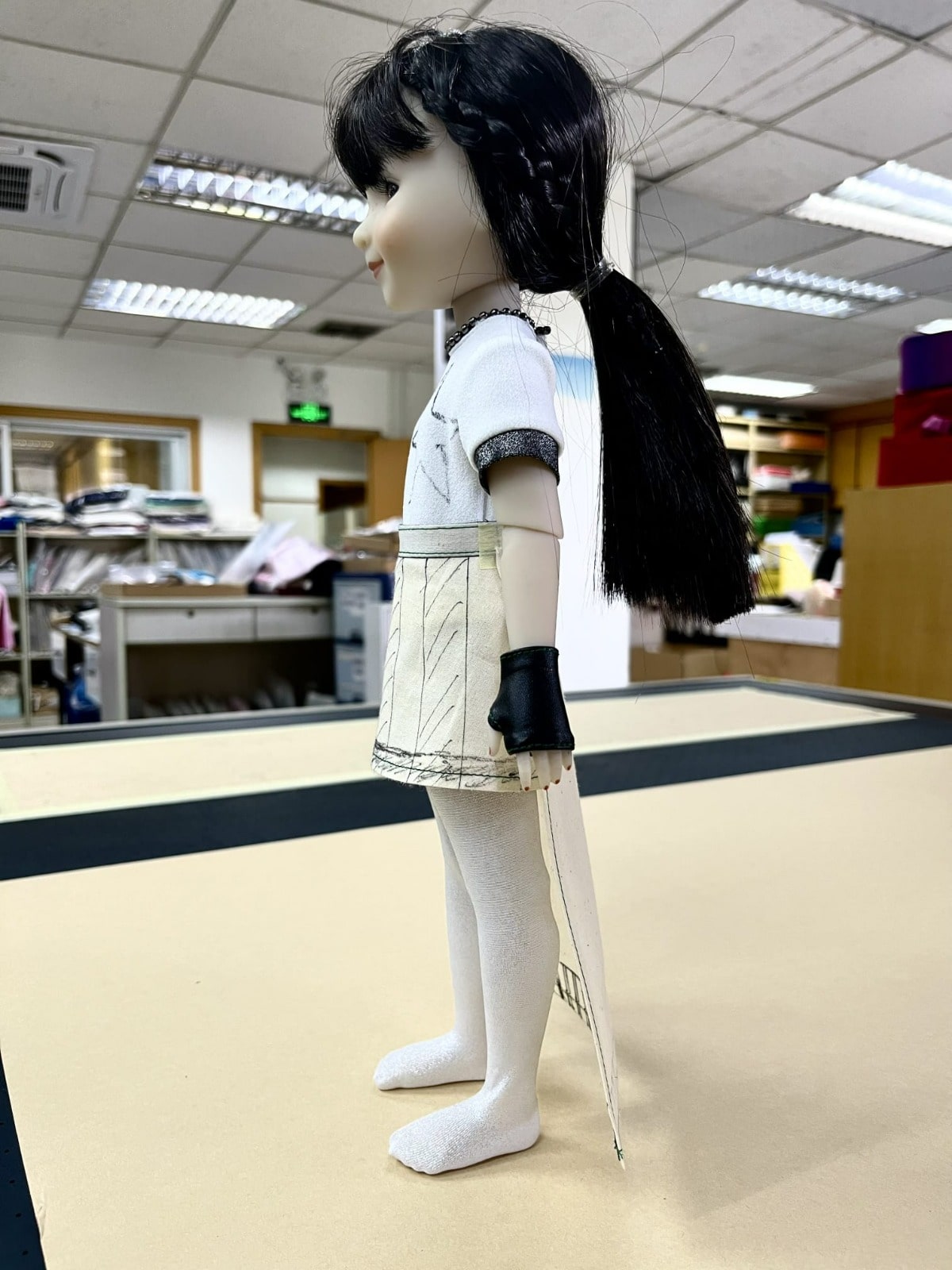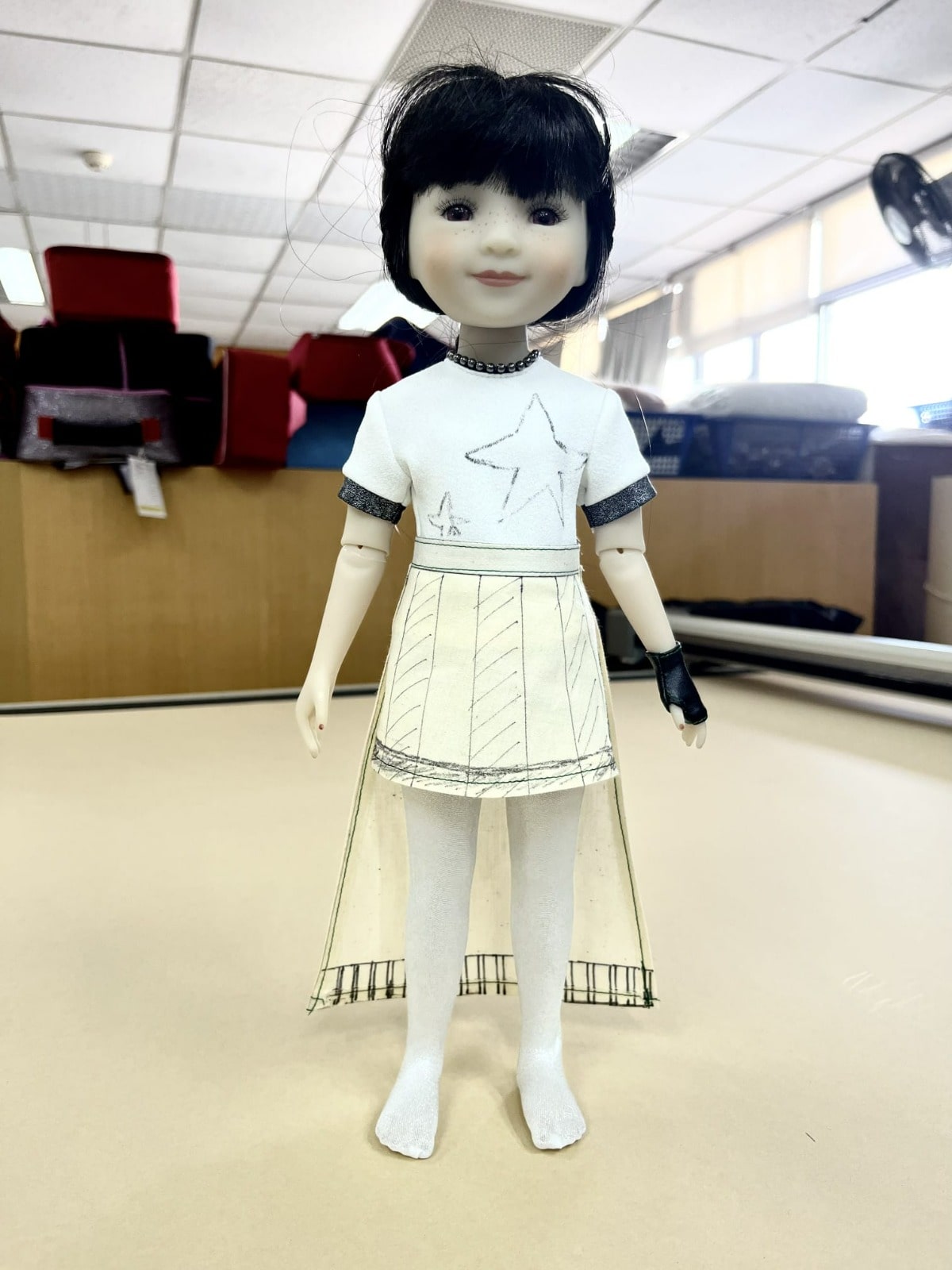 A prototype of Nicky's outfit
We choose Azaria's design because it really stood out to the design team. The monochrome palette was unique and different from all the other sketches sent in. It was clear that this designer had an individual vision and a special aesthetic perspective. Furthermore, the striking graphic pattern emblazoned on the shirt created a strong and punchy look. Overall, the design had a modern and fashionable feel. The team felt this doll would be perfect for anyone keen to express their own artistic point of view.
Moreover, Nicky's story captured our imagination. Her story extolls the virtue of preserving in the face of adversity and celebrating what makes you uniquely you, even if it isn't popular or trendy. We think that these are important lessons that align with the Ruby Red Fashion Friends philosophy. Nicky shows us that we should always be proud of who we are!
-
Nicky's final design stays true to Azaria's black & white concept and makes sure to include her bold red lip. The red lip adds a dashing splash of color to an otherwise limited palette. In contrast to the small collection of colors present, the finished product has lots of different textures that make the outfit really pop! Nicky is dressed in sequins, vinyl, embroidery, and more - meaning this doll will be super fun to play with and touch! Additionally, Nicky's design is chock full of accessories. She wears uber-fashionable fingerless gloves, punky chunky black boots, and a silver chain necklace. She can be dressed up or down, perfect for any occasion.
Once again, we want to say thank you to Azaria Summer Kelly for her impeccable taste, superb sketch, and meaningful story. We are sure you will have a bright future in doll design, maybe even at Ruby Red Galleria!
Stay tuned for more details and behind-the-scenes info on the rest of our competition-winning dolls.
What do you think of this fan collaboration? Do you have any predictions for the next competition-winning dolls? Let us know in the comments or email us at [email protected]
Shop Nicky: www.rubyredtoys.com/11-fan-edition
Do you want a chance to create your very own dream doll? Send in your sketch and story and you might be our next dream designer!
Find out more here: https://rubyredtoys.com/content/25-create-your-dream-doll