A review of our 2021 core line Fashion Friends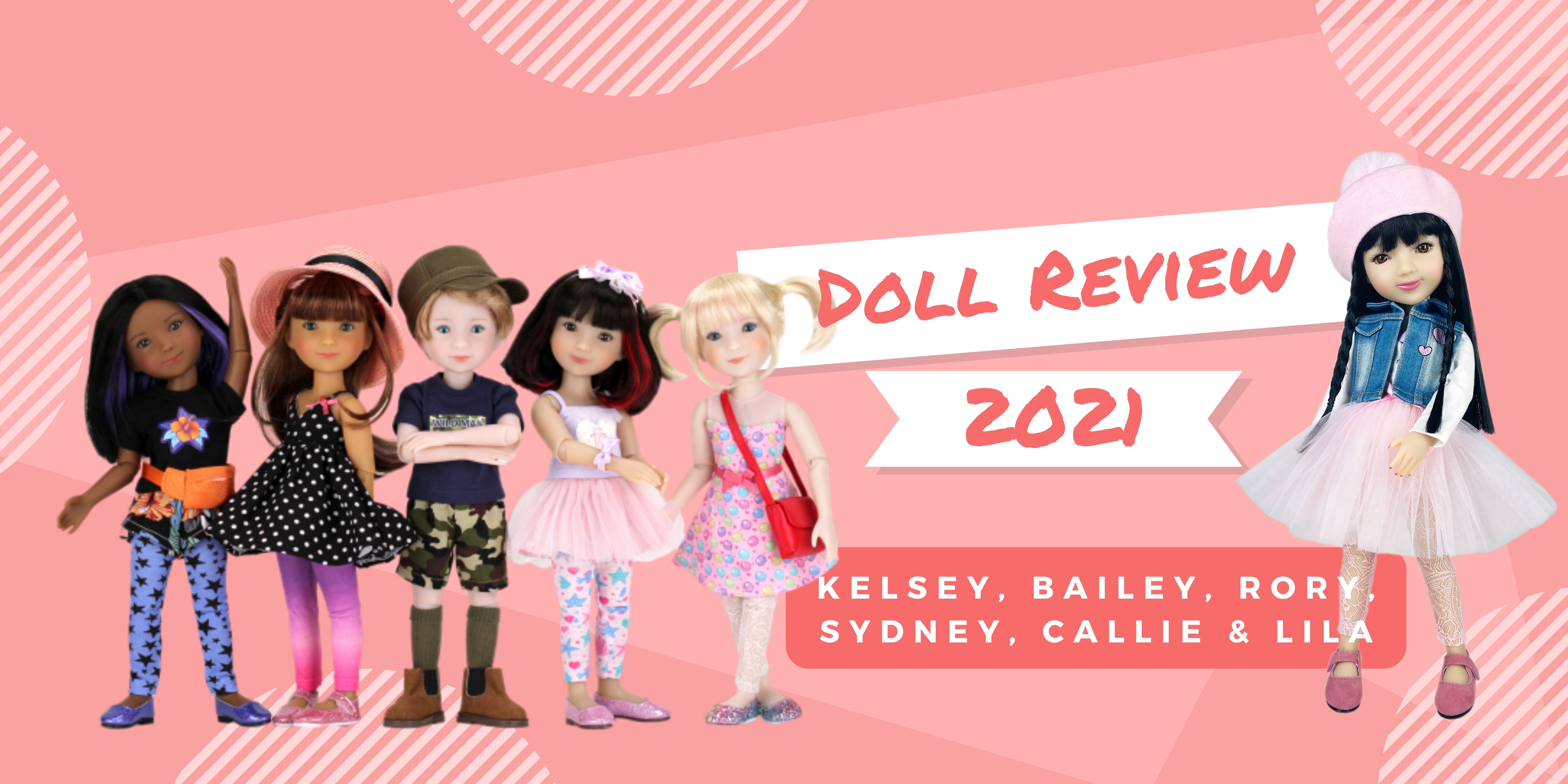 In 2021 the Ruby Red Fashion Friends brand continued to grow and evolve. This was the year a completely new core line was introduced: the Siblies. The design team wanted to create a companion doll for the original Fashion Friends. The Siblies are the younger siblings of the Fashion Friends and are a little more compact and portable, standing at 12" rather than 14.5". These new dolls offer a more playful and childlike perspective on the original Fashion Friend doll.
Overall, six unique dolls were released in 2021: I Believe I Can Fly Lila, Bailey, Callie, Sydney, Rory and Kelsey. Although the Siblies are slightly smaller that the Fashion Friend dolls, they still have the same high quality design with particular attention paid to the clothes and wig. Additionally, these smaller dolls still have nine points of articulation and can take up almost any pose. The Siblies perfectly compliment the Fashion Friends dolls, as evidenced by the thousands of photos of them together posted by our fans all over social media.
2021 saw even more diversity enter the Ruby Red line-up as the first male core line doll was introduced. Rory, a Ruby Red Siblie, is Let Your Light Shine Sara's little brother. He is very energetic and loves to play outside with his friends. His design gives him a sporty look and the camouflage elements reflect his love of the outdoors. Sara also has a little sister: Siblie Callie. Callie enjoys helping others and caring for animals, her kind personality influenced her design heavily. Callie has a soft and sweet style which is suggested in the candy pink macaroon motif featured in her outfit. All three dolls have similar features and hair colors to give them their family resemblance.
Rory's design introduces more masculine fashion to the core line, this is especially evident in his t-shirt design with is emblazoned with the phrase "wildman" that captures his exuberant spirit. Rory is definitely a doll to be played with, as well as displayed. He also wears tough tan boots that are suitable for any terrain. With army green and navy blue palette, this doll looks great trekking through the forest or scrambling in the jungle.
On the other hand, Callie has a very youthful and feminine design. Her blonde hair is styled into cute pigtails and even has sugary pink highlights. Her sweet theme is carried throughout her design, with a candy printed dress, beautiful lace leggings and super sparkly ballet flats. The contrast in color and design of these two dolls make them a great pair and they have proved popular with the Ruby Red fans. 
Lila is the core line Ruby Red Fashion Friend released in 2021. Her inspirational phrase 'I believe I can fly' reflects her strong self belief and ambition, and also her ability to soar on the dance floor. Lila is a serious artist and especially loves ballet. Lila's outfit is inspired by the art of ballet, her skirt resembles a tutu and her shoes ballet flats. She hopes one day to be a prima ballerina. Lila is an excellent role model for passionate people who live to hone their craft.
Lila's design adds further variation to the denim motif that runs throughout the Ruby Red Fashion Friends core line. She wears a denim vest with a pink heart printed on the pocket, a symbol of her love for dance. The pink heart matches the pink of her stylish beret that is accented with a fun fluffy pom-pom. Under her tutu, Lila has on a beautiful delicate pair of lace leggings that look excellent in motion. Like the other dolls in the core line, Lila has extremely high quality hair. Her long straight black locks can be styled multiple ways, perfect for a ballerina bun or sophisticated braid. Lila is a popular new addition to the core line and continues to be featured in many fan photos. 
Click here to join our photo contest and win your very own Lila!
Click here to join our photo contest and win your very own Lila!
Sydney, Bailey & Kelsey form the rest of the Siblie gang. Sydney is Hanna's younger sister, Bailey is Bella's and Kelsey is Kayla's. All three dolls share the beautiful hair and skin tones of their elder sisters, showing their family resemblance.
Sydney has short dark hair, just like Hanna, but has playful red streaks running through it. Sydney wears cute accessories such as a floral headband and bow bracelet to express her girly side. Sydney is another dancing doll who wears a tutu so she is always ready to try out a new routine.
Bailey shares the same fashion forward sensibilities of her elder sister Bella. She wears a very sophisticated pink straw hat to shade her eyes when she's hanging out on the beach. Her monochrome polka-dot dress is complimented by the shocking pinks and purples on her leggings. Bailey's fun outfit is great inspiration for any aspiring fashionista that takes her home.
Like her elder sister Kayla, Kelsey loves to play lots of different sports. The practical elements of her outfit, such as her orange body-bag and sporty shorts, ensure that this doll is always available for running, jumping and everything in between! Kelsey share the same beautiful dark hair as her sister, but with a striking purple streak to show her individual personality.
The Siblies line has been very well received by our fans and have been stocked in many stores the world over. We hope to continue to expand the Ruby Red family with more beautiful dolls, interesting outfits and versatile accessories in the coming year!
Let's Dance wity Ruby Red Siblies!
We hope you enjoyed learning more about the very first Fashion Friends, we are delighted the project has progressed to where it is today, and we believe there is a lot more to come! Do you own any of the original Fashion Friends dolls? Would you like to see these girls in more Limited Edition outfits?
Let us know in the comments, or email us at [email protected]