Introducing Sweet Dorothy
Our brand new collaboration with Wixana's Doll House
Collaborating with Wixana's Doll House
After the success of our Freya Flower Fairy doll, we have once again collaborated with Jana Blažková of Wixana's Dollhouse. Jana is an outstanding artist from the Czech Republic who has made many beautiful dolls.
This time, we have collaborated with Jana to bring you four brand new dolls, each to be released every quarter of 2022. The first doll in the series was Josephine, our romantic Princess followed by Delightful Daphne, our boho girl. The next doll in this exclusive series is Sweet Dorothy, a 'Mori' inspired doll! For those not yet in the know, 'Mori' is a Japanese fashion trend that takes inspiration from whimsical forests and wooded landscapes. Dorothy loves taking long walks through green places and feels most at home among trees and meadows. She collects flowers on her adventures and dries them out in large old books so she can use them to scrapbook later. 
The collaboration began last year, in August of 2021. After seeing Jana's incredible artwork and Freya Flower Fairy, our fans were clamoring for more outfits designed by her. The third doll in this collection features Jana's unique face painting paired with a classic Ruby Red face sculpt. 
Taking a closer look at Jana's original sketch
For her third doll in the series, Jana continued to take inspiration from nature and different cultures. Influenced by the restful and relaxing vibes of Mori fashion, Jana's sketch incorporates beautiful autumnal colors to create the perfect doll to celebrate fall. 
Jana's drawing has a color palette of browns, creams, and greens, drawing from the natural forms of the forest like moss and tree bark. The design features soft, cushiony silhouettes and fabrics to create a sense of comfort and serenity. Jana's sketch is full of cozy hues and shapes, and so began the process of bringing this beautiful sketch to life. 
Creating a new face painting...
Dorothy has the cherubic face of a forest spirit. She has a round, full-cheeked face, large baleful eyes, and an innocent pout. This face sculpt was painted in Jana's unique style, with a fanciful winged eyeliner, a light smattering of freckles, and a detailed life-like lip. Dorothy has a more childlike appearance than the other dolls in this collection, fitting for a babe in the woods. Her face is framed by copper orange hair, collected in an adorable braid. Her hair is reminiscent of the fur of a fox, Dorothy's favorite woodland creature. 
Initial face paintings by Jana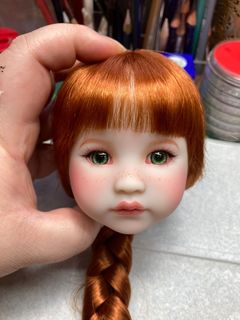 Initial face paintings by Jana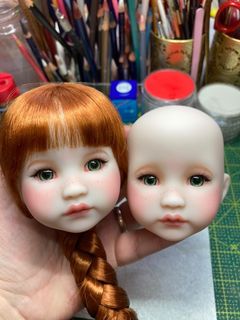 Dorothy's outfit is inspired by Japanese landscapes and the country's fashion. Japan is famous for niche micro-trends, such as Lolita, decora, or Harajuku styles. Unlike these styles that reference maximalism, incorporate clashing colors, and often skew more futuristic, Mori fashion moves away from more outrageous aesthetics to create a more soothing visual experience. Mori fashion is feminine, comfy, and whimsical. 
Layering is a key signifier of Mori fashion - Dorothy's outfit consists of many cutesy layers. She wears a cream blouse under a tea dress. Over her dress, she wears a snuggly knit cardigan and under it a pair of tights. To channel the juvenile spirit of Mori fashion, Dororthy's outfit has sweet childlike elements in the beige blouse's peter pan collar and her mary-jane footwear decorated with bows. Dorothy's outfit also takes cues from some of the more quirky aspects of Mori fashion. The stripes on her tights and polka dots on her dress express the more playful side of the subculture. Her outfit is also practical - her baker boy hat keeps her warm and dry on long walks, and her vintage-look satchel bag is perfect for foraging mushrooms and nuts in the forest.
To create a delightful and carefree aesthetic, Jana has combined the rich colors of ancient woodlands with a rustic fashion sensibility. We hope you love this girl as much as we do!