Meet Our Next Fan Edition Doll: Amelie
Learn all about our fan collaboration!
After holding a design competition to give kids the opportunity to create their very own dream doll, the Ruby Red Fashion Friends team decided to open up the submissions to all aspiring designers - be they young, old, or somewhere in between.  There were hundreds of amazing submissions from the Ruby Red community, the mailbox was overflowing with inspired sketches and intriguing stories. 
After much hard deliberation, we present to you our next Fan Edition doll: Amelie! Amelie was dreamt up by Vera Kotikova. Read her story here:
--
Amelie's story:
Amelie is a young artist from France. She loves to walk and draw in nature. Amelie gives pictures of animals and landscapes to her friends. 
Amelie wears a warm cape to feel comfortable in any weather. Her high lace-up boots and trousers allow her to easily cover long distances while enjoying a walk. A beret completes her artistic look.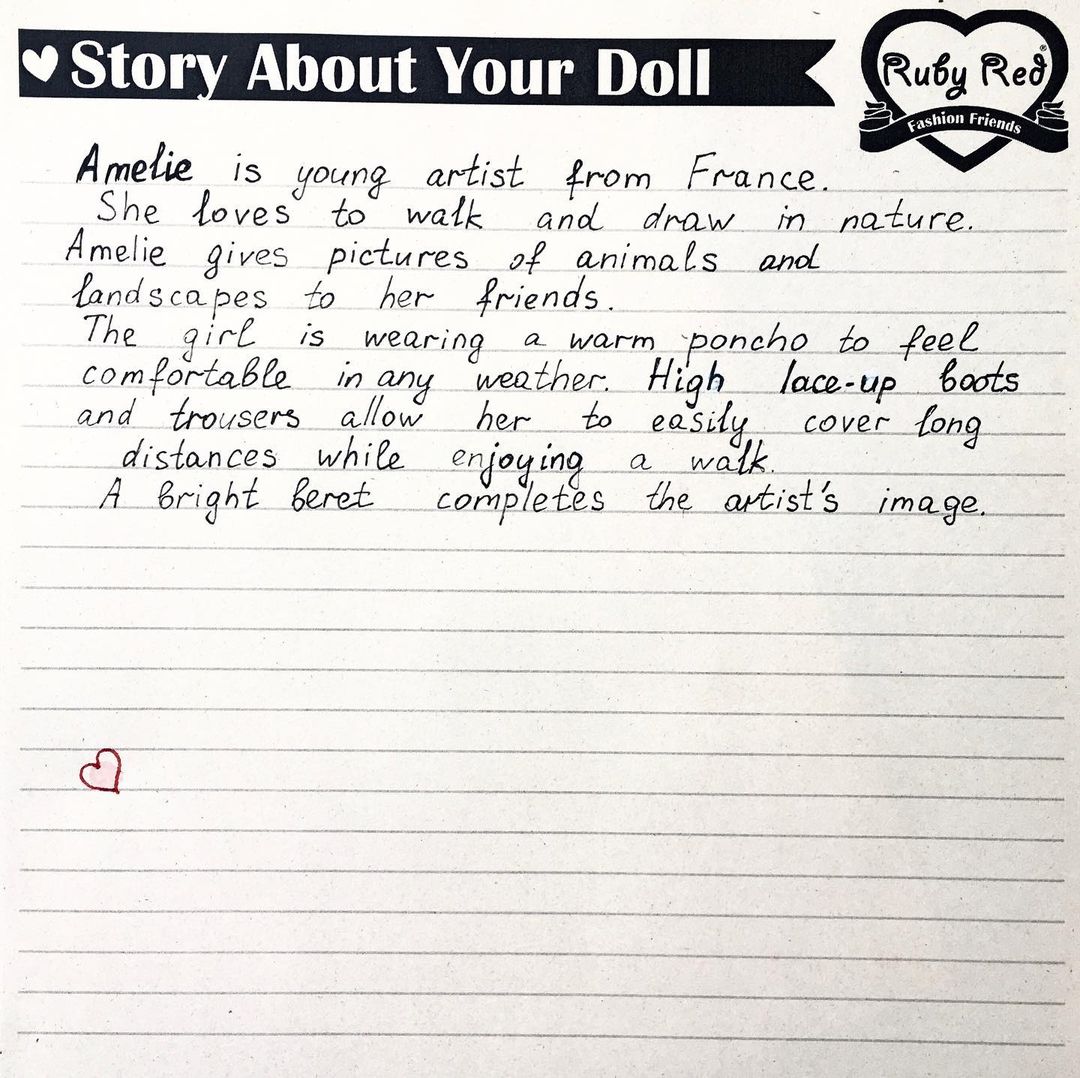 The design team fell head over heels for Vera Kotikova's design and immediately knew they wanted to create her exquisite sketch. Her story was short and sweet, painting the picture of a young and vigorous artist inspired by bracing landscapes and guided by a rich cultural history. The RRFF team choose this doll as her design expresses a love of artistry that prompted the Fan Edition project in the beginning. 
The design team also loved Amelie's warm autumnal palette of rich browns and deep maroons. Her style is unmistakably Parisian - full of timelessly classic garments such as the white button-down and sophisticated pieces like her matching tan satchel and oxford shoes. 
Her look is made cohesive by her practical yet equally enchanting accessories. Amelie wears a reversible cape, one side is a chic suede-brown color and the other an adorable plaid. Amelie's entire look can be changed by the flip of a cape. This fashionista's passion for painting is also evident in her accessories. She arrives with a tiny artist's paint palette complete with a brush - perfect for capturing a picturesque scene on the go. Amelie comes with loads of accessories that can be re-positioned and re-styled over and over again.
The final doll stays true to Vera's original vision. She wears the same girlish golden curls and a red lip that Vera carefully penned in the original sketch. Amelie looks every bit like the iconic french ingenue in her final iteration - a truly unique and quirky doll that is the perfect addition to any artist's collection. 
Once again, we want to thank Vera Kotikova for her creative spirit, awesome sketch, and inventive story. Stay tuned for more details and behind-the-scenes info on the rest of our competition-winning dolls.
/
What do you think of this fan collaboration? Let us know in the comments below.
Do you want a chance to create your very own dream doll? Send in your sketch and story and you might be our next dream designer!