Meet our Competition-Winning Dolls: Wyatt & Winona
Learn all about our fan collaboration!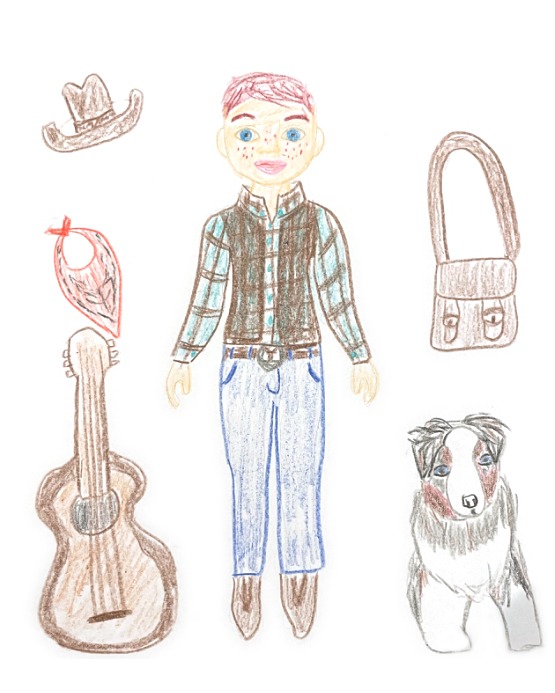 Naomi Joy McMillon's Original Sketch of Wyatt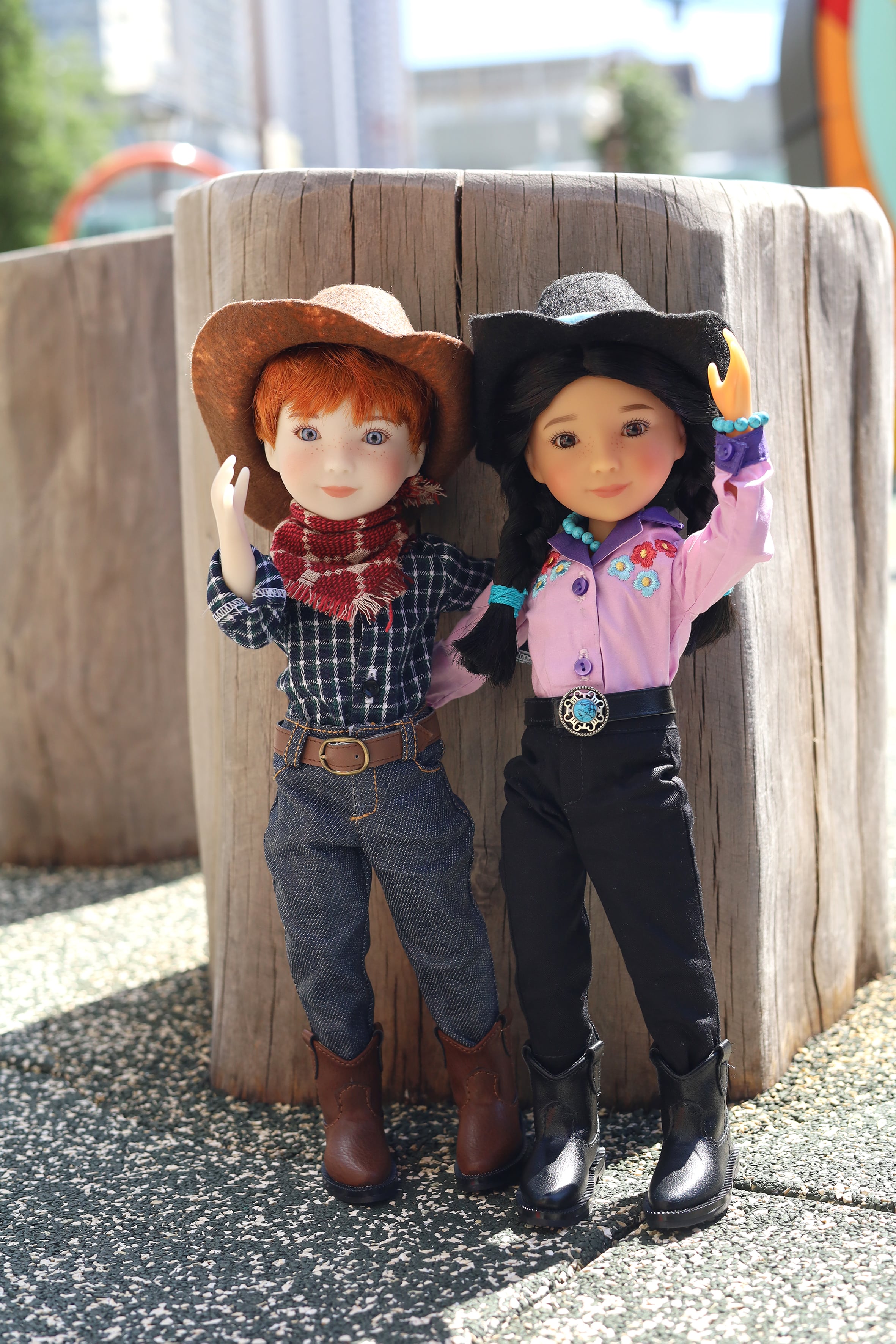 Wyatt & Winona, Fan Edition Siblies, July 2022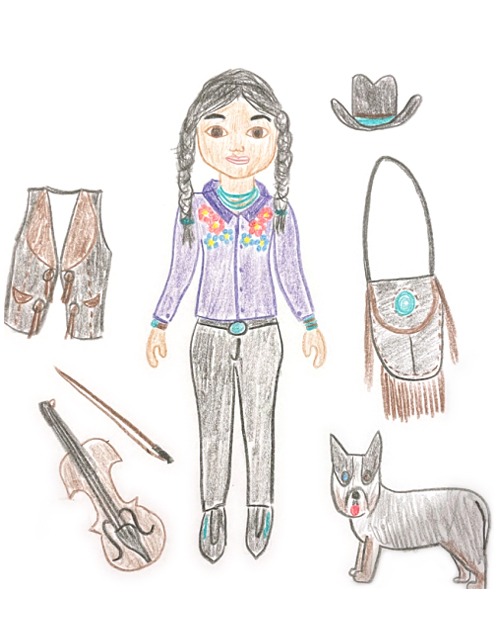 Naomi Joy McMillon's Original Sketch of Winona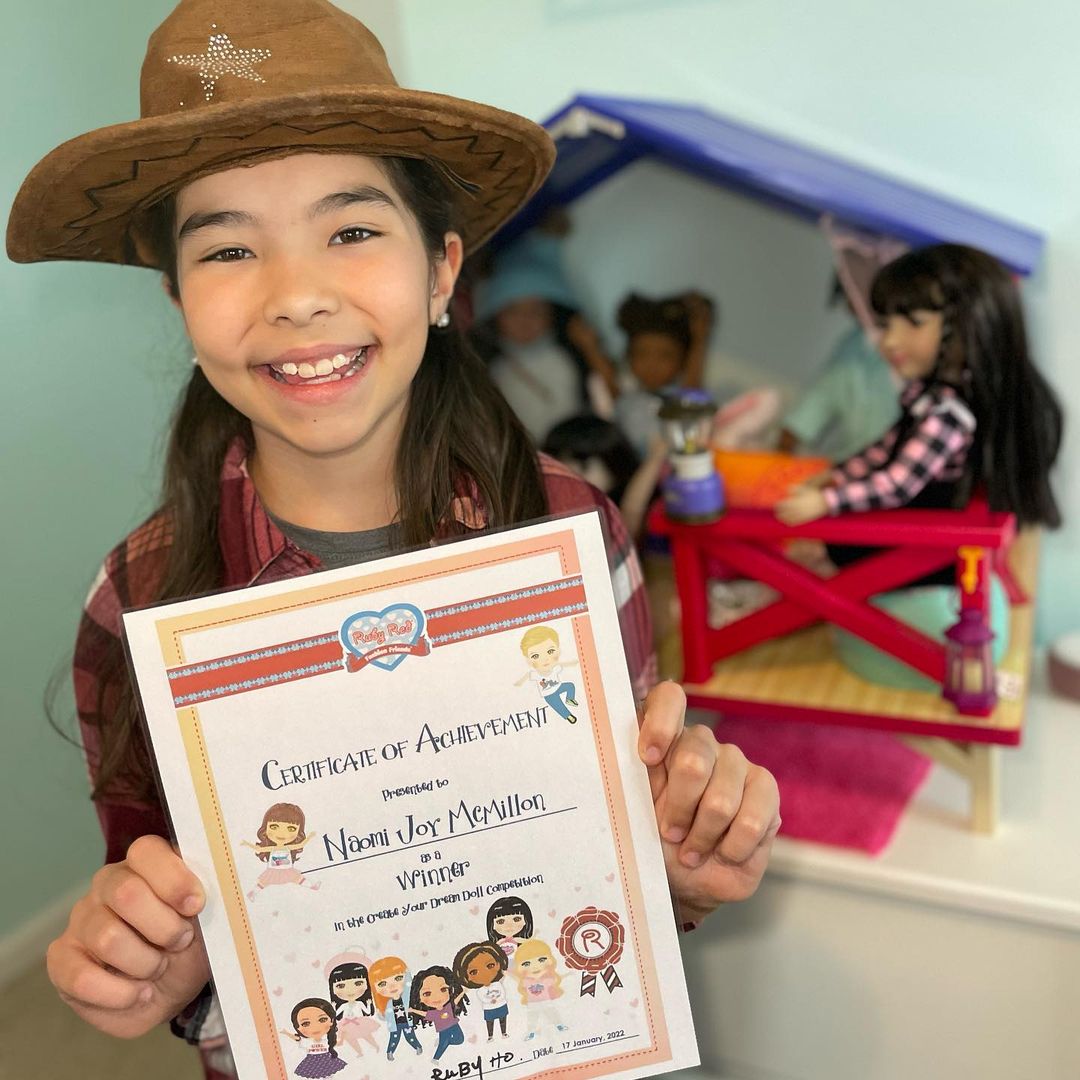 Naomi Joy McMillion with her winner's certificate 
After months of tense anticipation, we are finally ready to release our Fan Edition dolls! These dolls were designed by Naomi Joy McMillon (Age 9), read their stories here: 
Wyatt's Story
Wyatt is an athletic rodeo cowboy who loves everything about horses. He rides, grooms, shoes, and does everything necessary to take care of all the horses in the barn. He and his family raise horses and take them to shows every year, winning many awards and demonstrating that their farm is a great place to board horses. They also tell people about their horse occupational therapy program which gives differently abled people an opportunity to learn to ride a horse.
When Wyatt isn't taking care of horses, he is playing his guitar and singing popular country songs with his Australian Shepherd, Brodie. Brodie is his biggest fan and often joins in by howling along at the chorus of the songs!
Wyatt and his friends want to help people through horses and music. His best friend is a girl named Winona who also loves horses and rides in the rodeos. They want to host rodeos to raise money to provide opportunities for differently abled children and adults to use horses as therapy.
Wyatt has a copper-red head of hair that he keeps short, clean, and combed. He has light skin with freckles on his cheeks and nose. He comes wearing a teal and brown plaid flannel shirt, blue jeans, a belt with a large belt buckle, a brown leather vest, and brown cowboy boots. He also wears a brown cowboy hat and a red bandana with an over-the-shoulder saddle bag. He also comes with a guitar and his Australian Shepherd, Brodie.
Help when and where you can, Wyatt!
                                                          By Naomi Joy McMillon
Winona is a Indigenous American rodeo cowgirl who loves to show horses and compete in barrel races. She is athletic, competitive, and very proud of her culture. She loves all animals, but her favorite animal is her Australian Cattle Dog, Wigwam. They do everything together, including high-energy dance shows in which Winona plays the fiddle.
Winona volunteers at her family's ranch where they use horses for occupational therapy. She pets the horses and keeps them calm while differently abled people overcome their fears and use the horses to help them build confidence. Wigwam runs around the farm chasing off any distractions that could scare the horses.
Winona and her friends want to help people through horses and music. She loves to play a catchy jig that gets people moving, and her best friend and cousin, Wyatt, plays the guitar and sings - a perfect pair!
Winona is a darkly tanned native American with jet black hair braided in two beautiful low-hanging pigtails with turquoise hair ties. She comes wearing a beautiful purple cowboy shirt with embroidered flowers, a black leather belt with a large turquoise and silver belt buckle, leather and turquoise bracelets and necklaces, and black cowboy boots with turquoise embroidery. She comes with a black and brown leather vest, a black cowboy hat with turquoise trim, a black and brown leather western purse, and a brown wooden fiddle and bow. She also has her Australian Cattle Dog, Wigwam, a black, gray, and brown.
Make a way, Winona!
                                                                                                 By Naomi Joy McMillon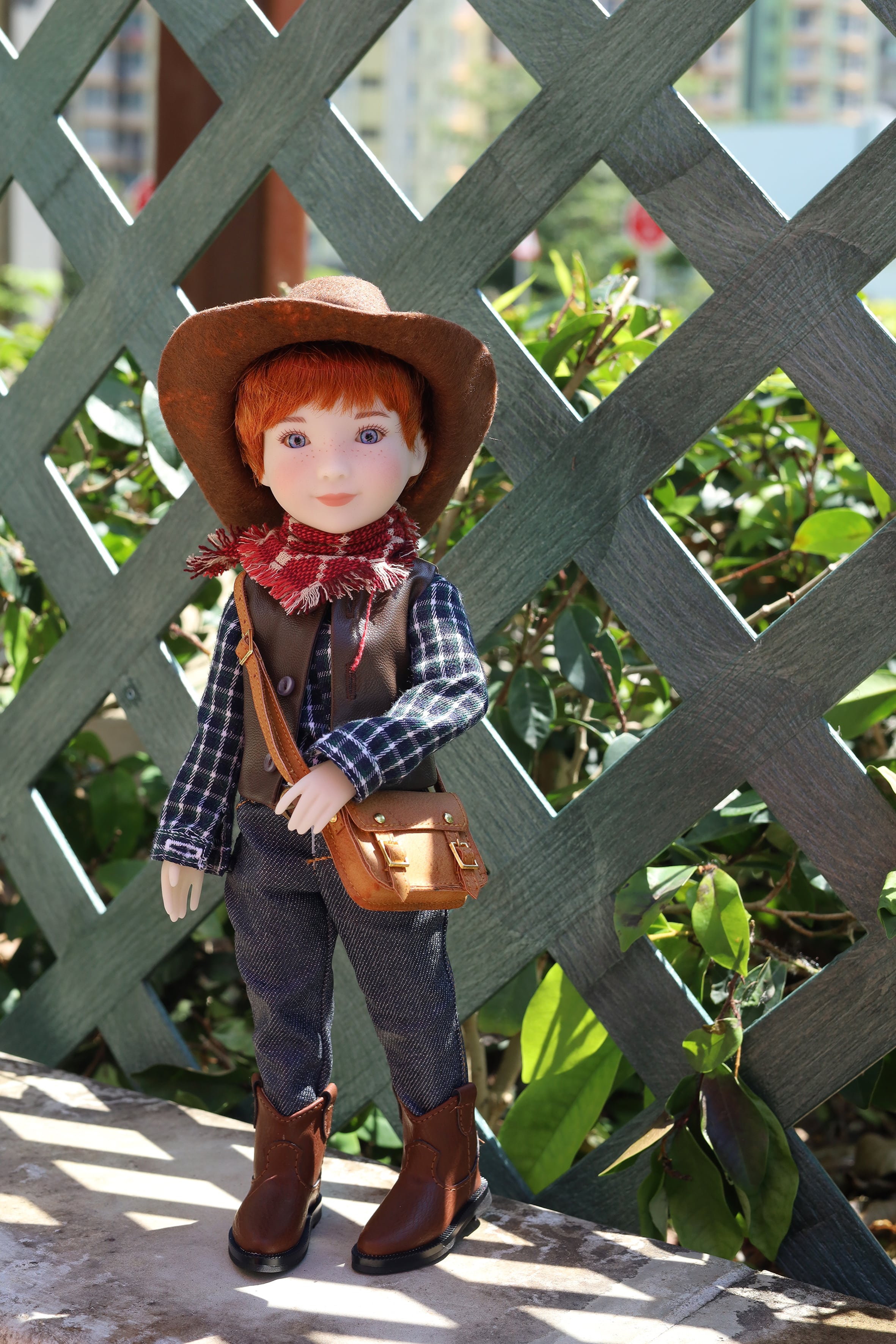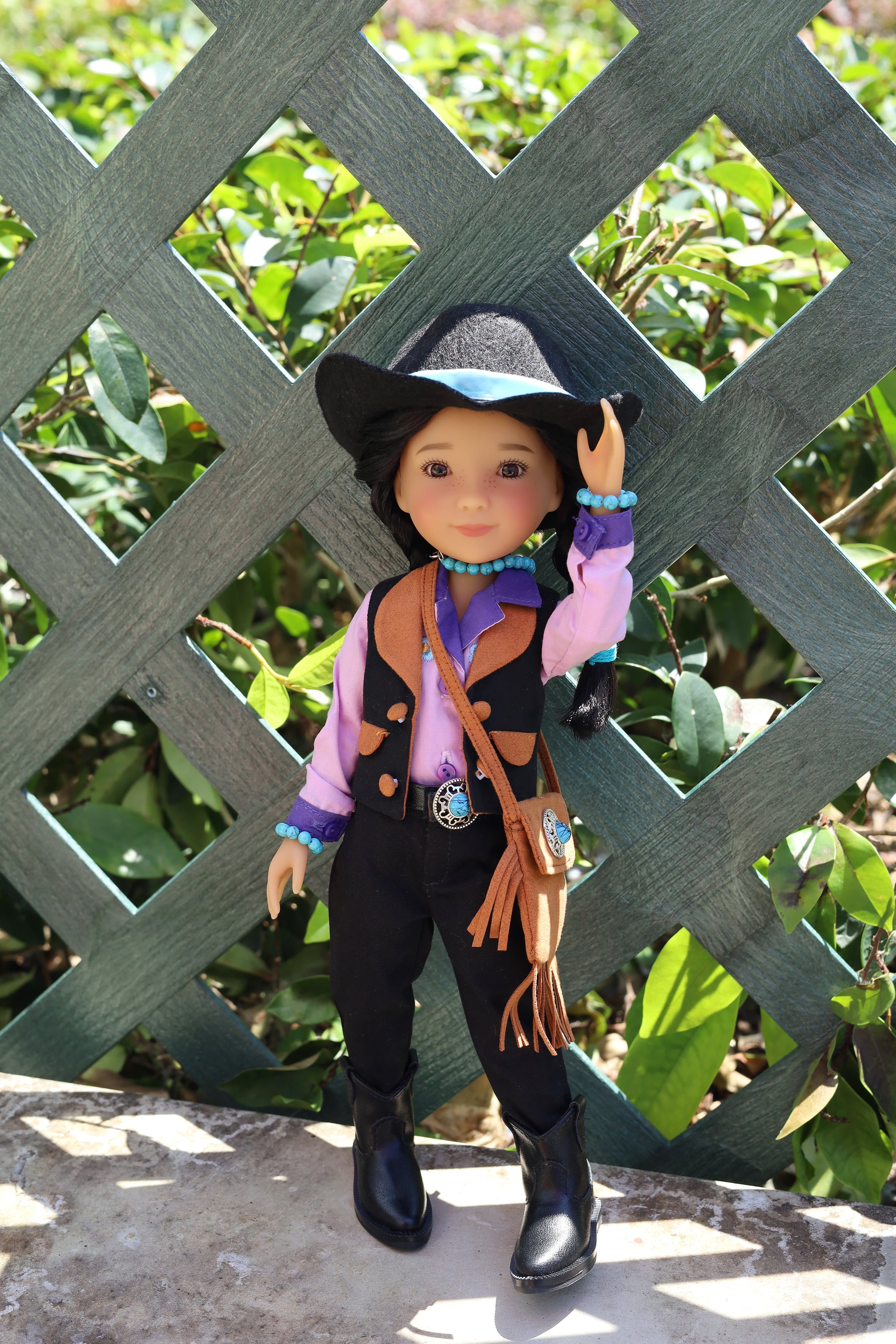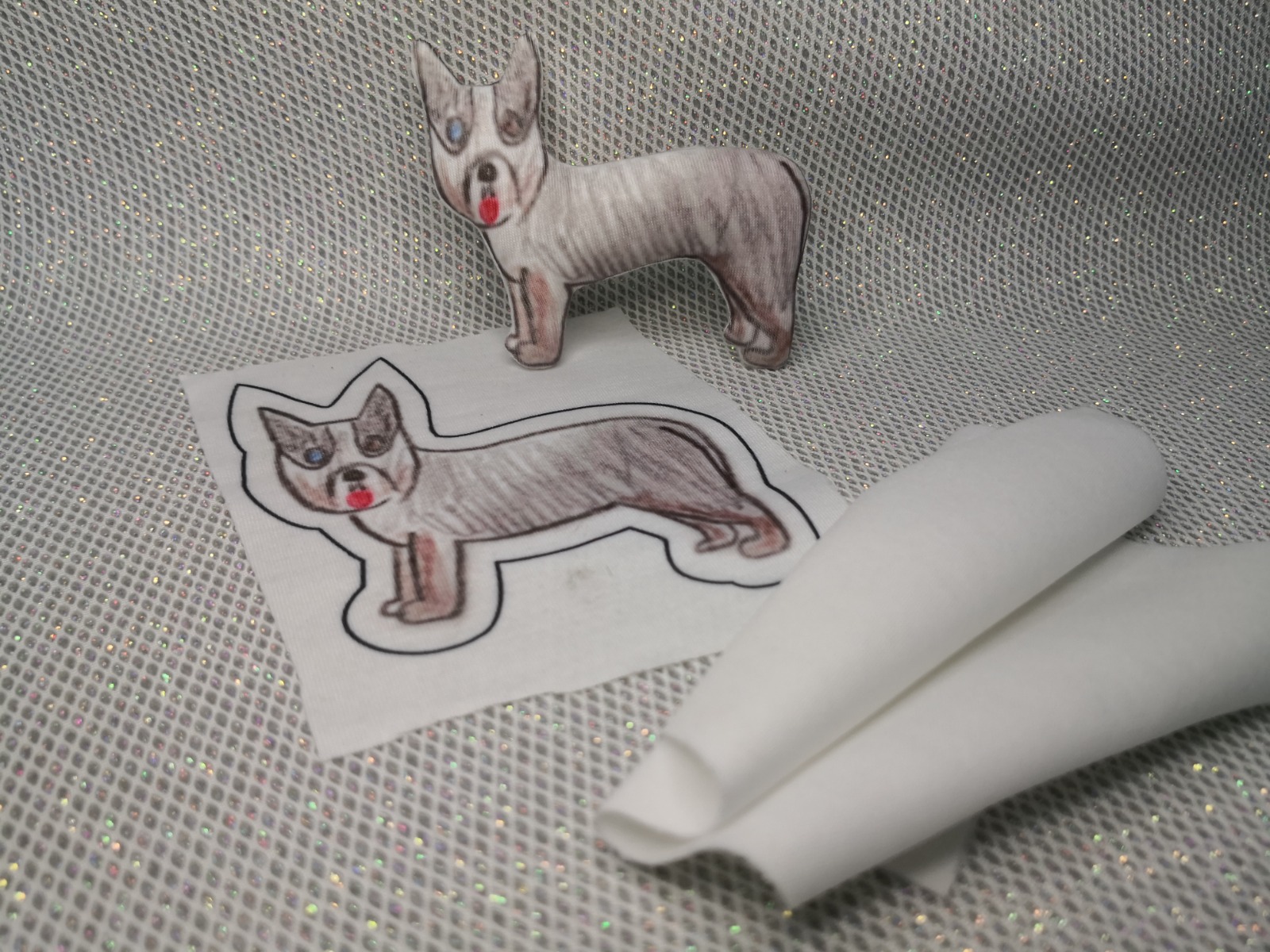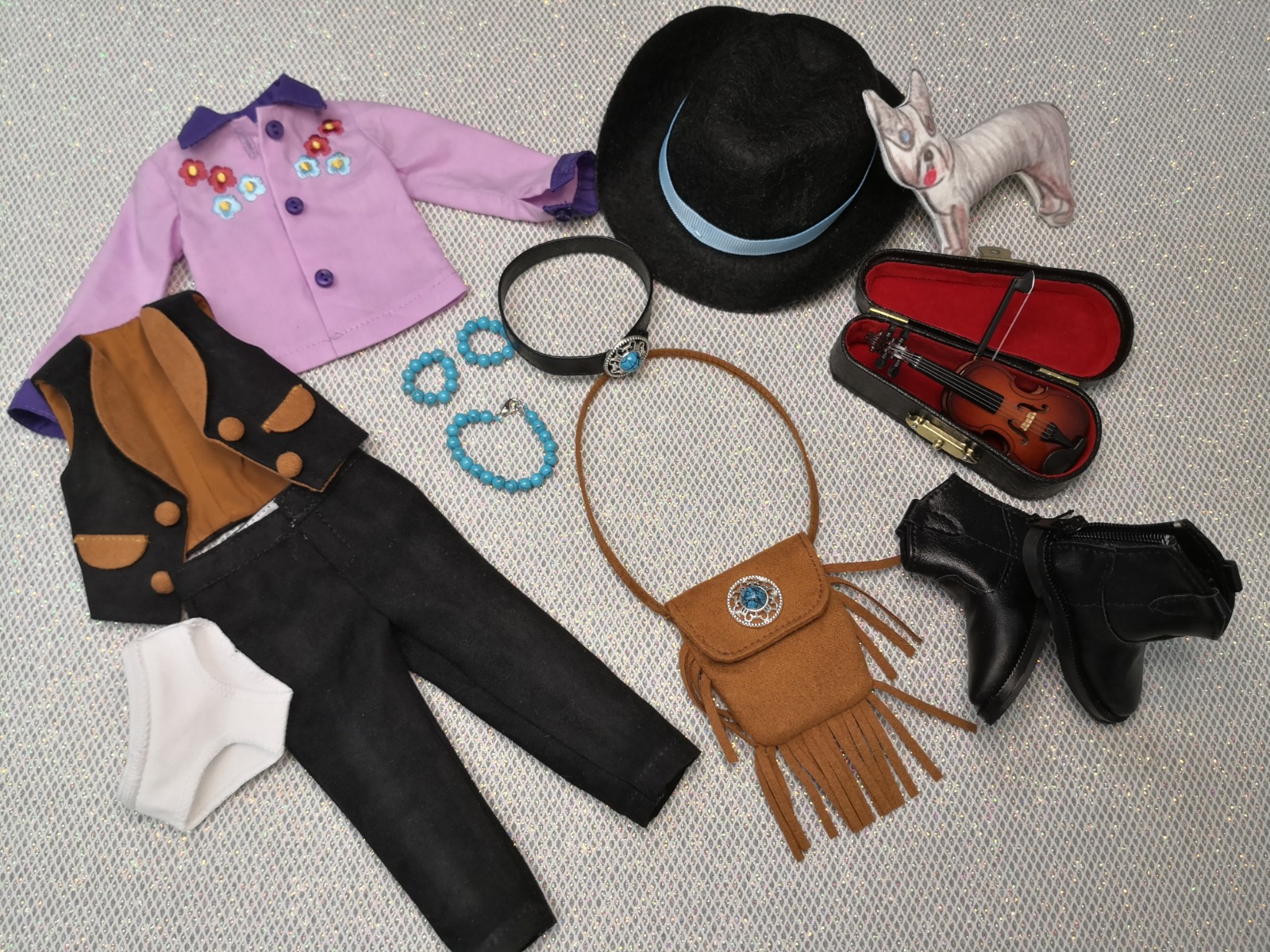 Winona's Outfit & Accesories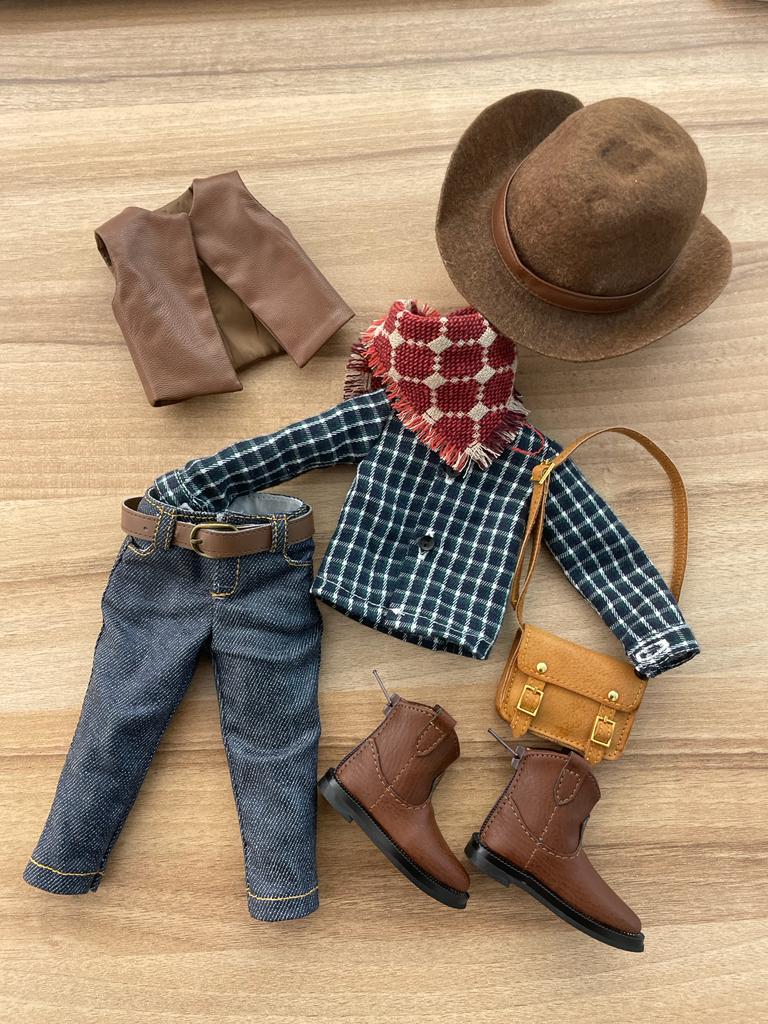 We choose Naomi's sketches because the design team really loved the matching dolls and western-themed stories. They thought they would make a perfect pair of Siblies. Naomi's designs were really detailed and inventive, not only did she create beautiful clothing for the dolls, but also loads of accessories and even their very own pets. Overall, we thought the designs had a fun and whimsical feel and would be perfect for playing make-believe! Naomi also wrote complete stories for both of her dolls. Winona and Wyatt's stories told us about these dolls' personalities; how they love to help others and be kind to animals. We believe these are important lessons that align with the Ruby Red Fashion Friends philosophy. Winona and Wyatt show us that we should always be kind to others! 
-
Winona & Wyatt's final designs stay true to Naomi's cowboy and cowgirl concepts and make sure to include each doll's fabulous accessories. For example, both dolls wear cowboy boots and a cowboy hat, iconic western staples, and they each arrive with their respective pets, Wigwam and Brodie. These plush dog toys feature Naomi's original artwork and make the perfect companions. Each doll wears a classic wrangler outfit, complete with button-down shirts, denim jeans, and fetching leather-look waistcoats. These cowpokes are dressed and ready for any adventure!
Once again, we want to thank Naomi Joy McMillon for her attention to detail, magnificent drawings, and wonderful stories. We are sure you will have a bright future in doll design, maybe even at Ruby Red Galleria!
Stay tuned for more details and behind-the-scenes info on the rest of our competition-winning dolls.
What do you think of this fan collaboration?
Let us know in the comments or email us at [email protected]
Learn more: https://rubyredtoys.com/11-fan-edition