Ruby Red Galleria Fulfill Your Dreams!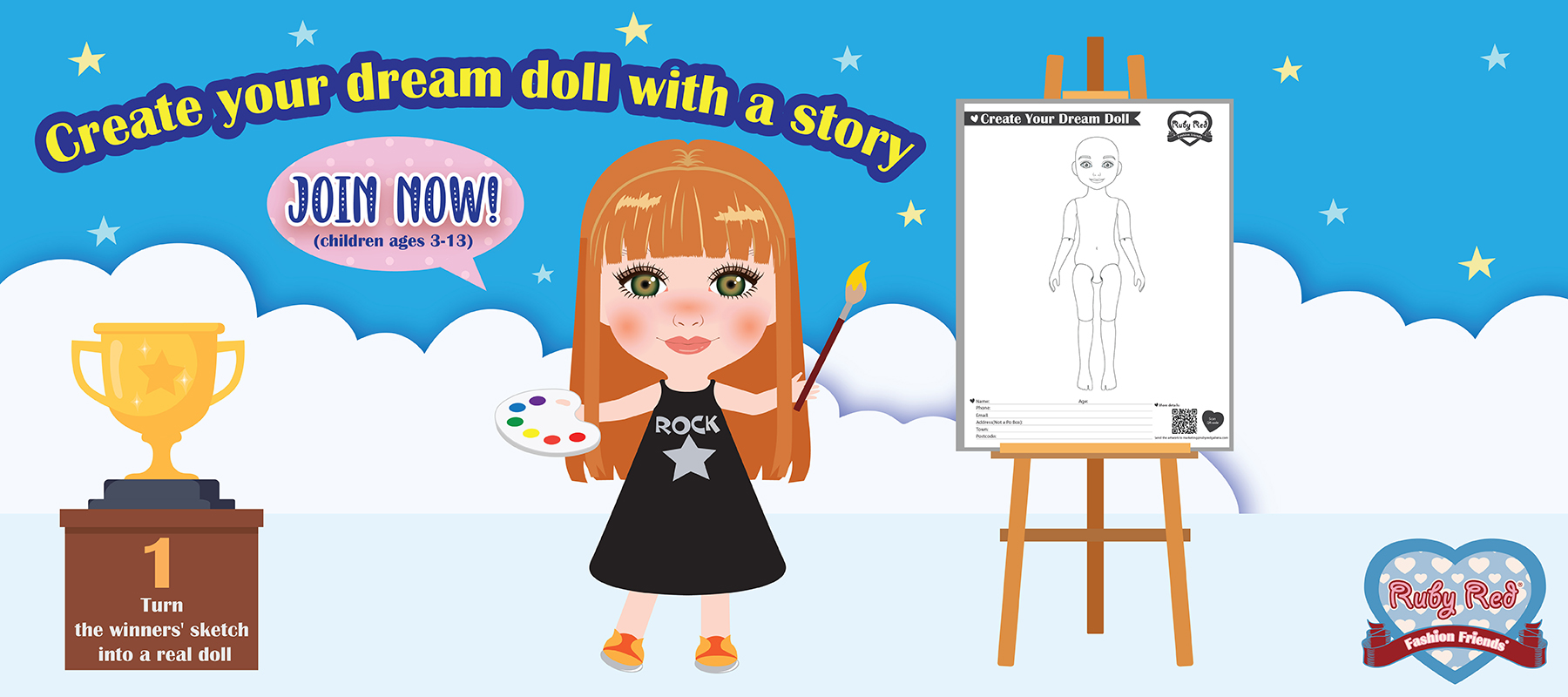 Here at Ruby Red Fashion Friends we believe in the importance of giving children an outlet for creativity and self-expression. As a result, we asking our young fans to create their own unique doll design and three lucky winners will have their sketch turned into a real doll! Children from the ages 3-13 are invited to imagine their own perfect one-of-a-kind companion. To enter, send us an email of the doll sketch and a back story that introduces your dream doll. In this story, you can include details such as the dolls name, their hobbies and their likes and dislikes.
Then, our design team will review all the submitted sketches and choose their favorite. If your sketch is chosen, it will be made into a unique RRFF doll with its own special story. We will send the doll and a certificate to the original designer as their grand prize! What's more, the winning design will be released as a limited edition doll in 2022! So, what are you waiting for? Get sketching!
How to take part:
1. Download the 2 competition worksheets below or download them at  https://cutt.ly/RRFF-Create-your-own-doll 
2. Sketch and color your dream doll with outfits and any accessories
3. Introduce your dream doll with story. In this story, you can include details such as the dolls name, their hobbies and their likes and dislikes.
4. Send the artwork to [email protected]
5. Follow our Instagram  and Facebook page 
⏰ Contest will be closed on 9 January, 2022 (10:00am US East Coat Time)
⏰ Winner will be announced on 17 January, 2022
Selection of winners
The winning photos will be selected through an impartial judging process, and the winners will be announced through RRFF official social media and receive email notification.
Terms of entry
Participants of this contest must carefully read and agree to the following terms before joining. Entry into the competition is considered as acceptance of the following Terms and Conditions.
*Please be aware that the content of these terms may be changed without prior notice.
1. Participants should be aged 3-13.
2. There is no limitation on the number of artworks submitted via email within the competition
3.  Ruby Red Galleria reserves the right to disqualify any artwork that do not meet these guidelines.
(1) Artwork must be designed by the entrants themselves
(2) Photos with dolls, outfits, accessories or background featuring other brand(s) are not accepted.
4. Participants agree us to make use of his/her artworks in any of our social media platforms, publicity materials or promotional materials.
5. This competition is organized by Ruby Red Galleria and is not related to or a collaboration with Facebook or Instagram.
6.Ruby Red Galleria reserve the finals rights to decide the winner(s) and amend rules.