Introducing Delightful Daphne
Our brand new collaboration with Wixana's Doll House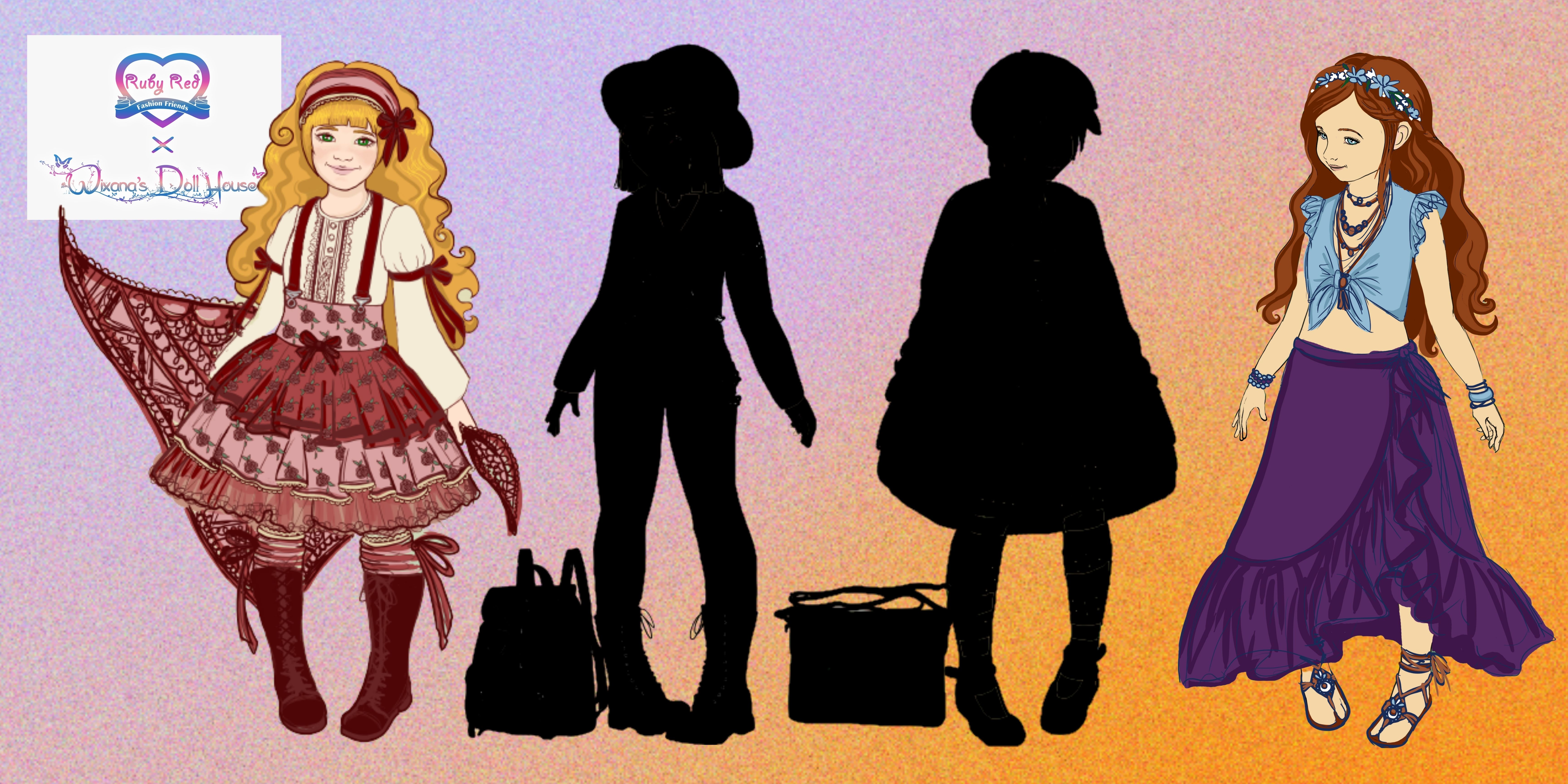 Collaborating with Wixana's Doll House
After the success of our Freya Flower Fairy doll, we have once again collaborated with Jana Blažková of Wixana's Dollhouse. Jana is an outstanding artist from the Czech Republic who has made many beautiful dolls.
This time, we have collaborated with Jana to bring you four brand new dolls, each to be released every quarter of 2022. The first doll in the series was Josephine, our romantic Princess and the next is ... Daphne, our Boho girl!
The collaboration began last year, in August of 2021. After seeing Jana's incredible artwork and Freya Flower Fairy, our fans were clamoring for more outfits designed by her. At the same time, our Chief Designer Ruby Ho was working on a brand new head sculpt that she thought would be perfect for Jana to paint. Ruby wanted this sculpt to be totally unique, with a focus on the doll's expression. Therefore, this new sculpt has a more realistic aesthetic that captures the character of the doll. Jana and Ruby combined their talents to collaborate on four special dolls.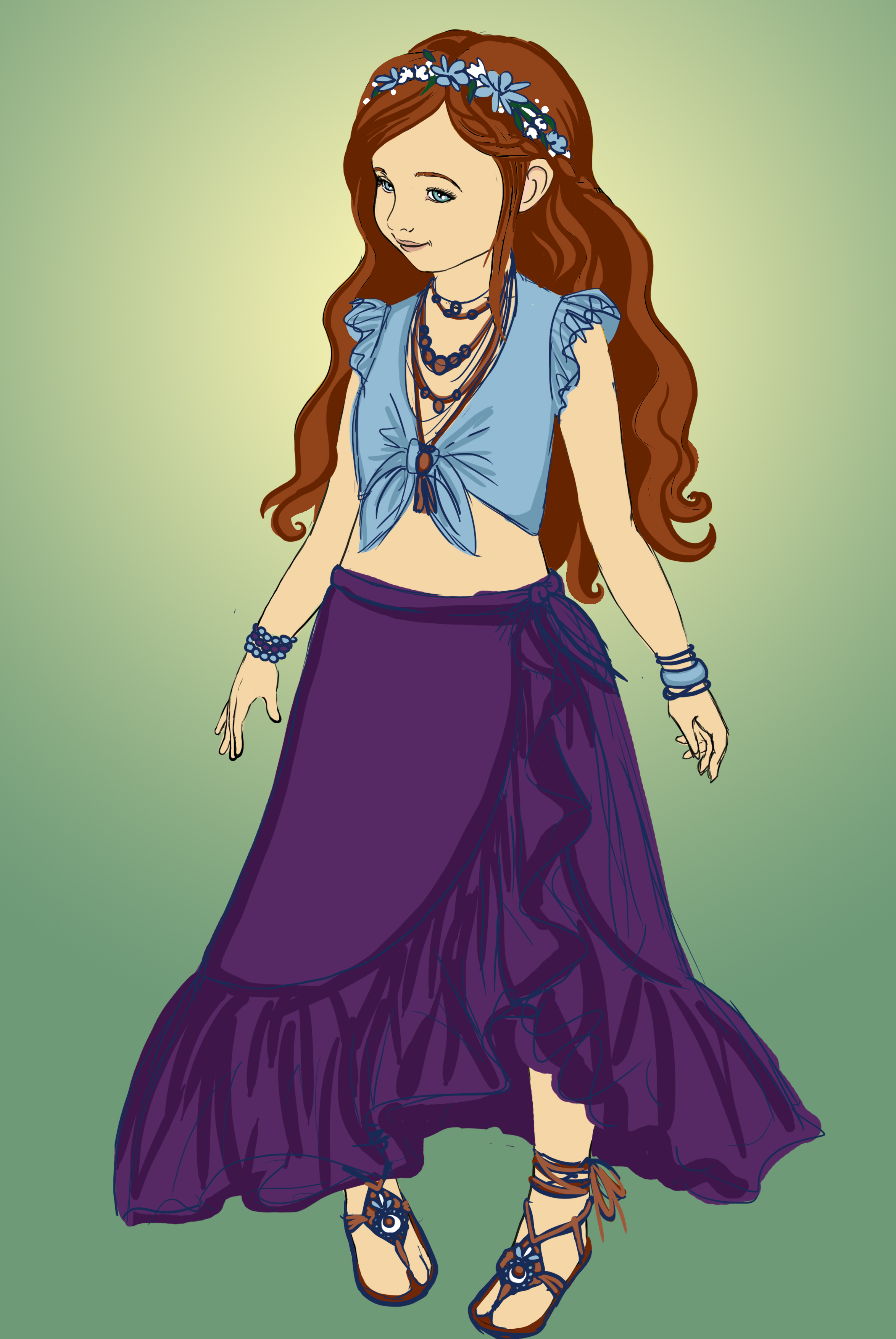 Taking a closer look at Jana's original sketch
Jana's vision was to create a free-spirited doll who compliments nature, just in time for Spring! She wanted the doll to inspire creativity and radiate positivity with her bohemian design and long flowing silhouettes. Therefore, in her design, Jana incorporates long, sweeping lines and waves that give the drawing a natural flow.


Jana's drawing has a color palette of cool blue and purple tones inspired by the natural landscapes of the sea and sky. These environmental elements are accentuated by the natural materials running throughout the design, such as flowers and leathers. Jana's original sketch is full of calming colors and shapes, and so began the process of bringing this beautiful drawing to life.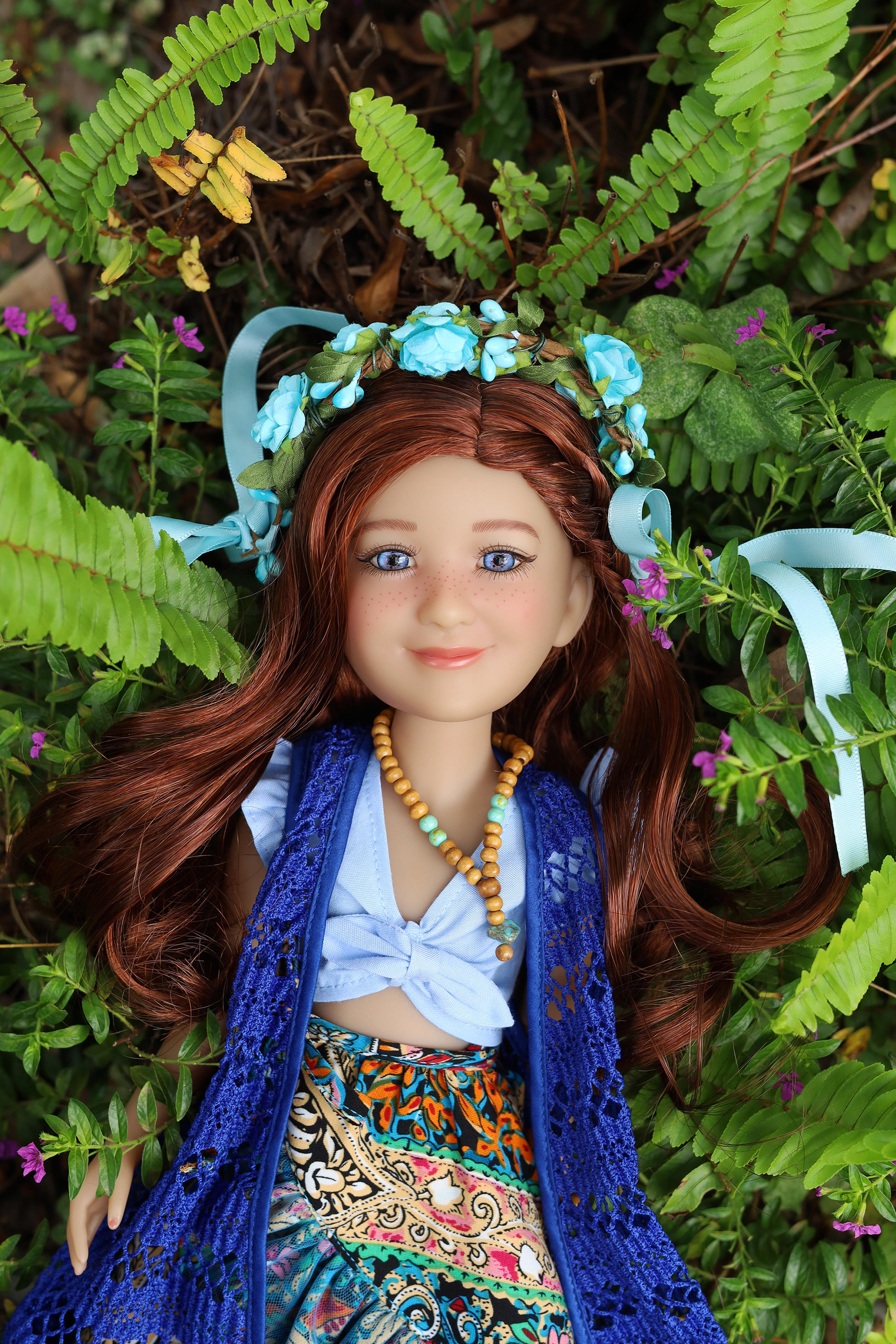 Creating a new head sculpt...
Daphne has a brand new head sculpt created by Ruby. The new sculpt has full cheeks, a serene smile, and large eyes. Ruby wanted the face to have an open and friendly expression to compliment Daphne's warm and welcoming spirit. After receiving the sculpt, Jana brought it to life with her delicate painting.

Daphne has healthy flushed cheeks and freckles developed by all her time basking in the sunshine. She has natural glossy peach lips that beautifully contrast her tan skin. Jana chose striking cornflower blue eyes to act as the focus of the face. 
Together, Ruby's sculpt and Jana's painting gives Daphne a unique and affable look. To complement the new sculpt, the doll wears a luxurious high-quality wig of long brown beachy waves, accessorized with a gorgeous flower crown bursting with bright blue roses.

Initial head paintings and sculpts by Ruby Ho & Jana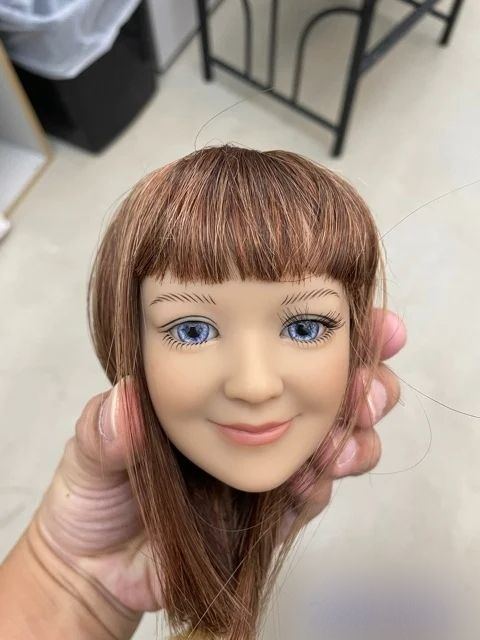 Initial face paintings by Ruby Ho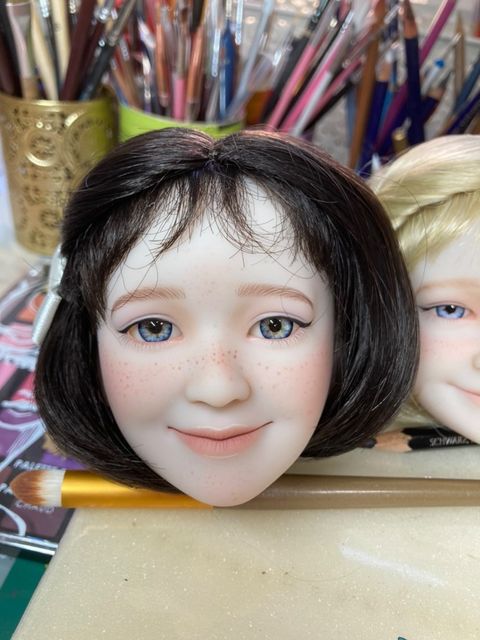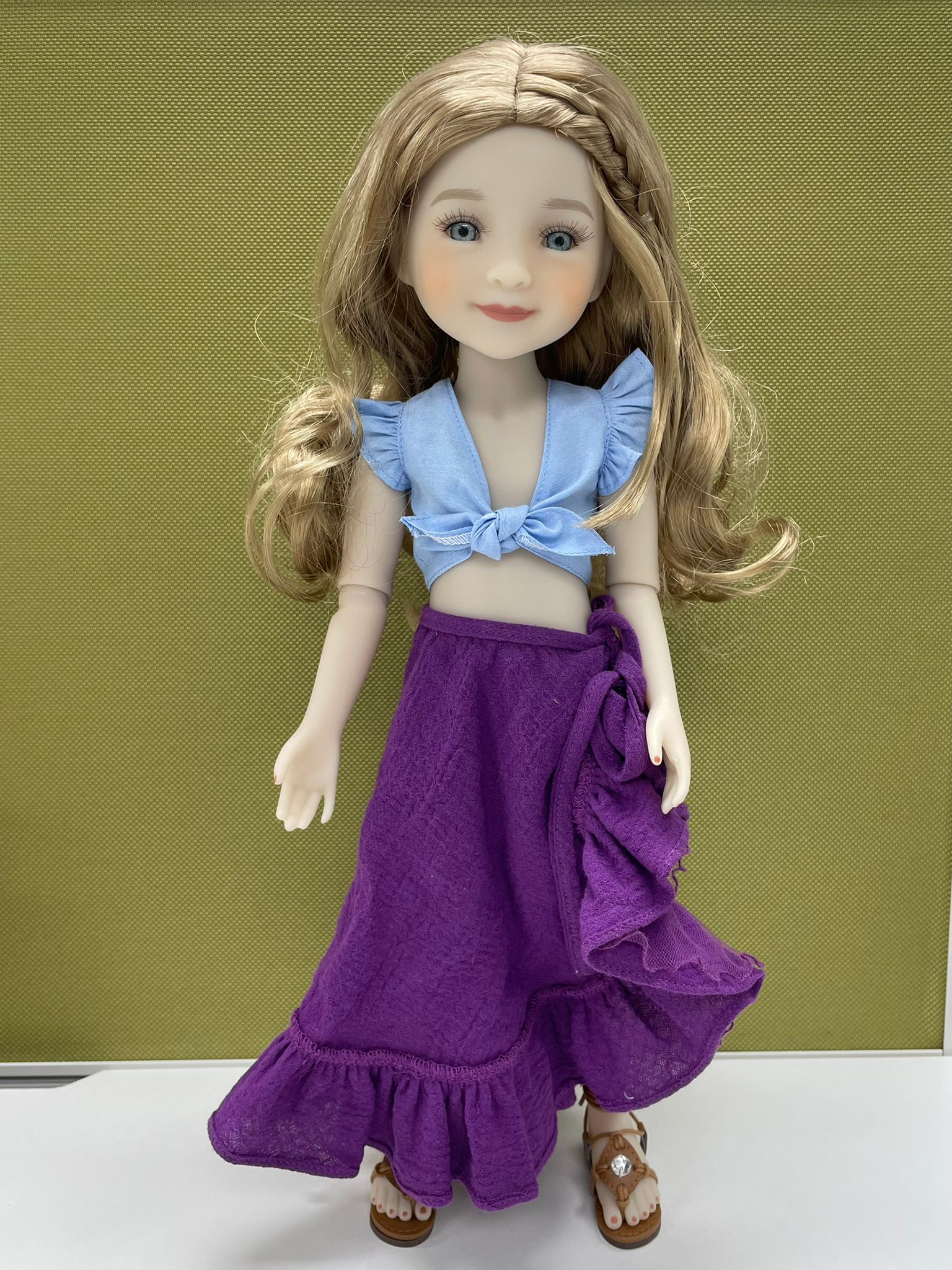 Initial iterations  of Daphne's outfit
Daphne's outfit is inspired by American Hippie culture and has injections of Indian fashions and patterns. Her style channels those found where free spirits gather, like music festivals such as Woodstock and Coachella. Another major influence is nature, specifically the colors and shapes of the ocean and the wind. The initial iterations of Daphne's outfit had solid purple and blue colors throughout to capture the aesthetics of the natural landscapes. However, the solid colors didn't express the motion and fluidity of the seaside. To represent this movement, the skirt became lighter chiffon and was given a dynamic paisley print. The ruffles along the skirt and top mimic the crashing and spilling of the waves on the sand. 
To further bring in elements of the 'Hippie' style, Daphne wears sandals and jewelry studded with the precious stone Turquoise. Turquoise is said to have powerful healing energies that maintain physical and emotional balance. This stone perfectly suits Daphne's personality, as her positive and calming aura spreads all around her. 
Combining elements of nature and 'Hippie' culture gives Daphne a powerful and timeless look that we believe our fans will love!
Join our competition for the chance to win exclusive prizes!
Win a brand new 2022 Ruby Red Fashion Friends outfit! 
Visit our social media pages and answer this question: What are some of the things that inspired Delightful Daphne's style? 
There will be 4 lucky winners! Make sure to comment on our FB & IG posts for a chance to win!
Visit our Facebook and IG pages and answer this question in the comment box of Delightful Daphne's post on 27 May.
Terms & Conditions
Participants of this contest must carefully read and agree to the following terms before joining. Entry into the competition is considered as
acceptance of the following Terms and Conditions:
1. Individuals under the age of 18 must ensure they have permission from a parent and or legal guardian before submitting their entry.
2. Each of the Facebook and Instagram account can join this activity ONE time only.
3. Any comments/answer not related to the question will be disqualified.
4. The prize is as stated and no alternatives will be offered. The new outfit cannot be exchanged for regular currency.
5. This competition is organized by RRFF and not related to or a collaboration with Instagram and Facebook.
6. RRFF reserve the finals rights to decide the winner(s) and amend rules.
7. The end of an activity would be 5 June 2022