A review of our 2020 core line Fashion Friends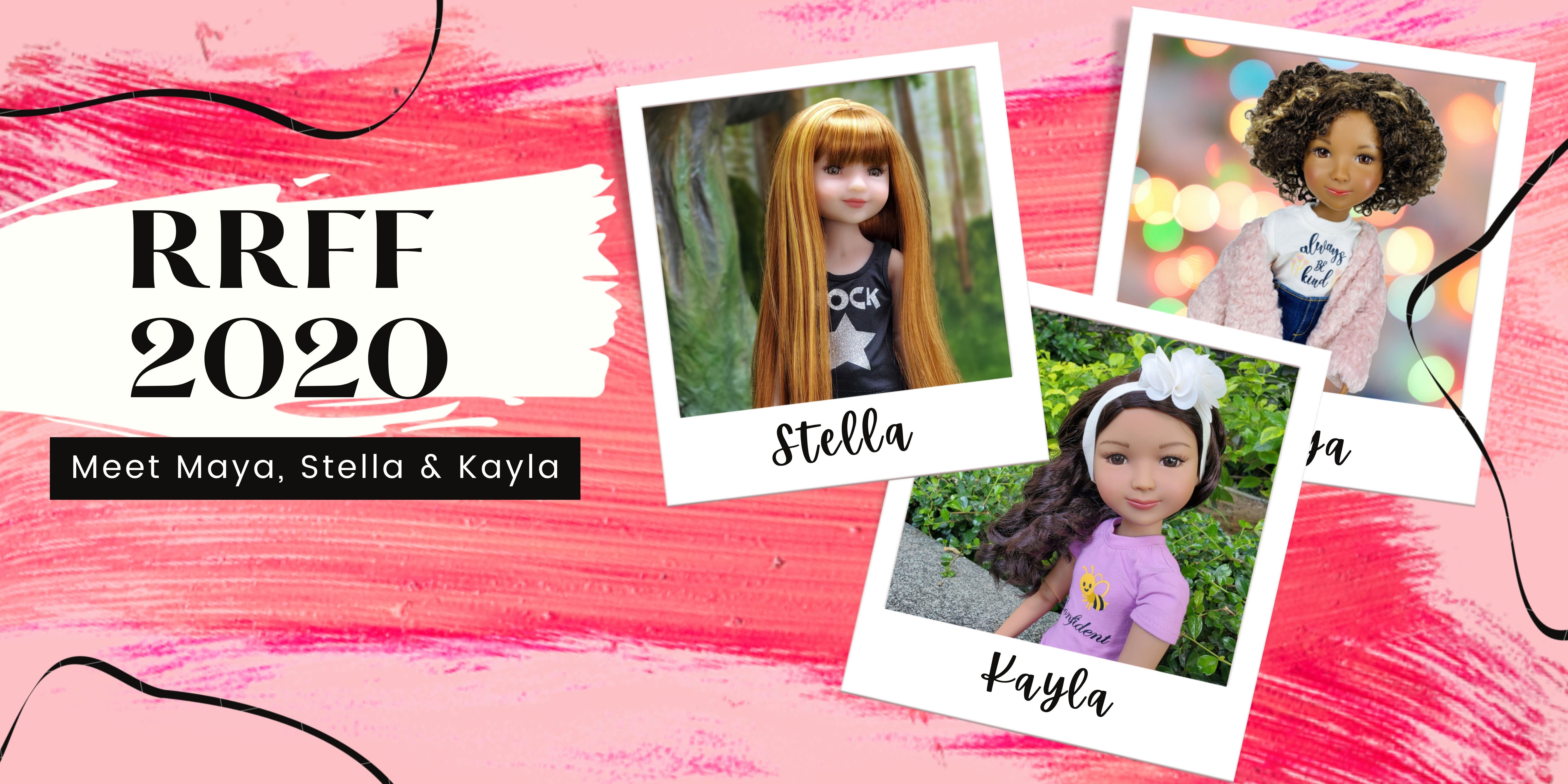 Following the release, and ensuing popularity, of the Ruby Red Fashion Friends dolls in 2019, the team started work on the next three core line dolls that would be released in 2020. When expanding the range, the design team wanted to curate a diverse selection of dolls, and therefore created dolls with different features, backgrounds, and styles.
The three dolls that were released in 2020 are Always be Kind Maya, Be Confident Kayla and Rock Star Stella. Just as with the first three dolls, the quality of these dolls was central to their production. These dolls have high quality wigs and clothing and have nine points of articulation that had already proved so popular for posing purposes. Furthermore, these dolls also had their own unique inspirational messages that bring positive energy into the world. Join us as we review the next three dolls in the Ruby Red Fashion Friends core line.
In 2020, Ruby Red Fashion Friends released the core line doll Maya. Her inspirational phrase, that features on her long-sleeved t-shirt, is 'Always be Kind'. Maya's phrase encourages living compassionately and she is a loyal companion to loving and generous people everywhere. Her soft and fluffy fashion and features reflect her tender attitude to others. Maya aspires to be a fashion influencer when she is older, and her kindness and ability to connect with anyone will ensure her success in this adventure!
Maya's design adds further diversity to the Ruby Red Fashion Friends core line. She has beautiful deep brown skin and afro style hair with fashionable blonde highlights. The wigs worn by the core line dolls are all very unique as they are a focus for the doll's design. Ruby Red founder, Ruby Ho, began her career in doll wigs, and therefore ensures that each doll has interesting and exquisite hair. Maya is also a special doll in the core line range as she is the first one to feature a denim skirt as her unique denim item. Underneath the skirt Maya wears intricately detailed leggings with a flower pattern. This more feminine style is complimented by her pastel fuzzy jacket, which is reminiscent of a beautiful pink cloud. Maya's floral printed sneakers match the other Ruby Red Fashion Friends dolls that came before her, ensuring she looks like part of the crew with her own individual style.
Maya proved popular from her release and since has been released in multiple different special editions. Holiday Special Maya featured the doll dressed in an elegant blue strapless ruffle princess dress made of high quality shimmering organza layers with lace. Maya is also available in the new combo set that also features her little Siblie, Sunny. In the combo set Maya wears a fun pink tutu and has her own pet dog! 
In 2020 Ruby Red Fashion Friend's also released 'Rock Star' Stella. Stella's energetic quote is emblazoned on her tank top, the second word represented by the star shape instead of the word. This reflects Stella's drive to communicate through art and abstract gestures, rather than through more traditional means. For instance, Stella is a talented musician and expresses her emotion via her unique music. She is the perfect doll for passionate artists, children and adults alike.
Stella's design also offers more choice in terms of style and coloring. She has striking green eyes and long red hair that perfectly contrast each other. In addition, she has more of an edgier style than the other dolls. Alongside her signature tank top, she wears a boyish charcoal grey cap that sits rakishly on her head. Her star printed cardigan emphasizes her fun spirit and her unique denim item is a pair of jeans punctured with sparkly appliqués that show her alternative fashion style. Stella wears silver sparkly boots that would look perfect on the stage, the place where Stella truly feels at home. 
Click here to download a Stella wallpaper for your mobile
Click here to download a Stella wallpaper for your desktop 
Stella can rock any outfit!
The last core line doll of 2020 up for review is 'Be Confident' Kayla. Her inspirational phrase features on her purple t-shirt alongside a sweet picture of a bee. The bee graphic shows Kayla's love for the outdoors and running and playing in nature. She loves sports and is always outside playing soccer, tennis and even doing gymnastics. Moreover, the bright vibrant colors featured on her signature shirt mirror her exuberance that lights up a room. Kayla's message empowers young people and encourages them to believe in themselves.
Kayla's design introduces even more variety into the core line. She has a gorgeous medium brown skin tone and long dark brown wavy hair that is complimented by a contrasting white flower headband. Kayla wears both a denim jacket and denim jeans in a dark wash. In the core line, the design team endeavoured to create many different interesting textures and colours in each doll's denim item, therefore Kayla has fashionable bleached patches at the front of the legs. Kayla's silver sparkly sneakers are perfect for playing whatever sport her heart desires!
Kayla has been featured in many special edition releases. By the Sea Kayla wears a nautical inspired outfit with a cream sweater and navy pleated skirt. Alongside Bella, Kayla also was released in a cosy vacation outfit that features a bohemian red dress and luxurious hammock to relax in. 
We hope you enjoyed learning more about the very first Fashion Friends, we are delighted the project has progressed to where it is today, and we believe there is a lot more to come! Do you own any of the original Fashion Friends dolls? Would you like to see these girls in more Limited Edition outfits? Let us know in the comments, or email us at [email protected].