A review of our very first Fashion Friends
In 2019, the Ruby Red team released their first 14.5 inch dolls influenced by contemporary fashion and committed to quality and excellence.  With this, the Ruby Red Fashion Friends were born! The team wanted the dolls to carry inspirational messages of positivity and light, and therefore they were all given their own unique phrase that informed their design and personality. Moreover, the team wanted these dolls to be relatable to a modern audience and share in the aspirations held by many young people and adults alike. Therefore, each doll in the main collection has a back story that shares something about their diverse ambitions and drives.
Only three Ruby Red Fashion Friend dolls were released in 2019, Dream Big Bella, Think Happy Thoughts Hanna, and Let Your Light Shine Sara. The quality of the dolls was very important to their conception and production. Their designs focus on quality wigs, expertly crafted clothes and full posability, with each doll boasting nine points of articulation. The design ethos behind these dolls is to create something fashionable, yet timeless. They have a casual style, all involving their own unique denim item, with sporty and feminine details. Join us where it all started as we review our first three dolls in the main collection.
The first original Ruby Red Fashion Friends doll is Dream Big Bella. Bella's titular phrase 'Dream Big' features as a graphic on her tank top. This is a signature element of the Fashion Friends dolls, all of the dolls' inspirational phrases are incorporated into their design. Bella's message to 'Dream Big' hopes to encourage adults and children alike to follow their passions in life. Bella has big dreams of her own, when she gets older she wants to study in the fashion capital of the world, London, and become world renowned for the innovative clothing creations she will make.
Many elements of Bella's design represent the signature design of the Fashion Friends. For example, her auburn hair is multi-tonal, with blonde highlights, and is styled with two intricate braids. The Fashion Friends line pays special attention to the wig quality of the dolls, ensuring each doll has a unique and interesting hair style. Our Chief designer, Ruby Ho, began her career in wig production, and so the wigs of the dolls have remained a central focus for the design team. Dream Big Bella also features a denim jacket, this also forms part of the Fashion Friends signature look, as all the dolls wear a unique denim item. Our design team wanted the core line of dolls to relate to each other, but still wanted each to look individual and have their own sartorial identity, and so gave each their own twist on a classic denim item. Bella's jacket is sleeveless and comes in a dark blue wash, perfectly complimenting the brighter patterns of her skirt and leggings.
Since her initial production, Bella has remained a fan favourite in the Ruby Red community, and has since been re-released in multiple limited edition outfits. For example, Bella Hummingbird features this doll dressed in an elaborate pink and white dress, resplendent with ruffles and bows and Cozy Vacation Bella includes the doll dressed in a bohemian floral dress and comes with a comfy hammock for her to relax in. 
                Bella Hummingbird (Mar 2020 Limited Ed.)                                       (Cozy Vactaion Bella (May 2021 Limited Ed.)
Bella looks great in different outfits!
Bella Hummingbird (Mar 2020 Limited Ed.)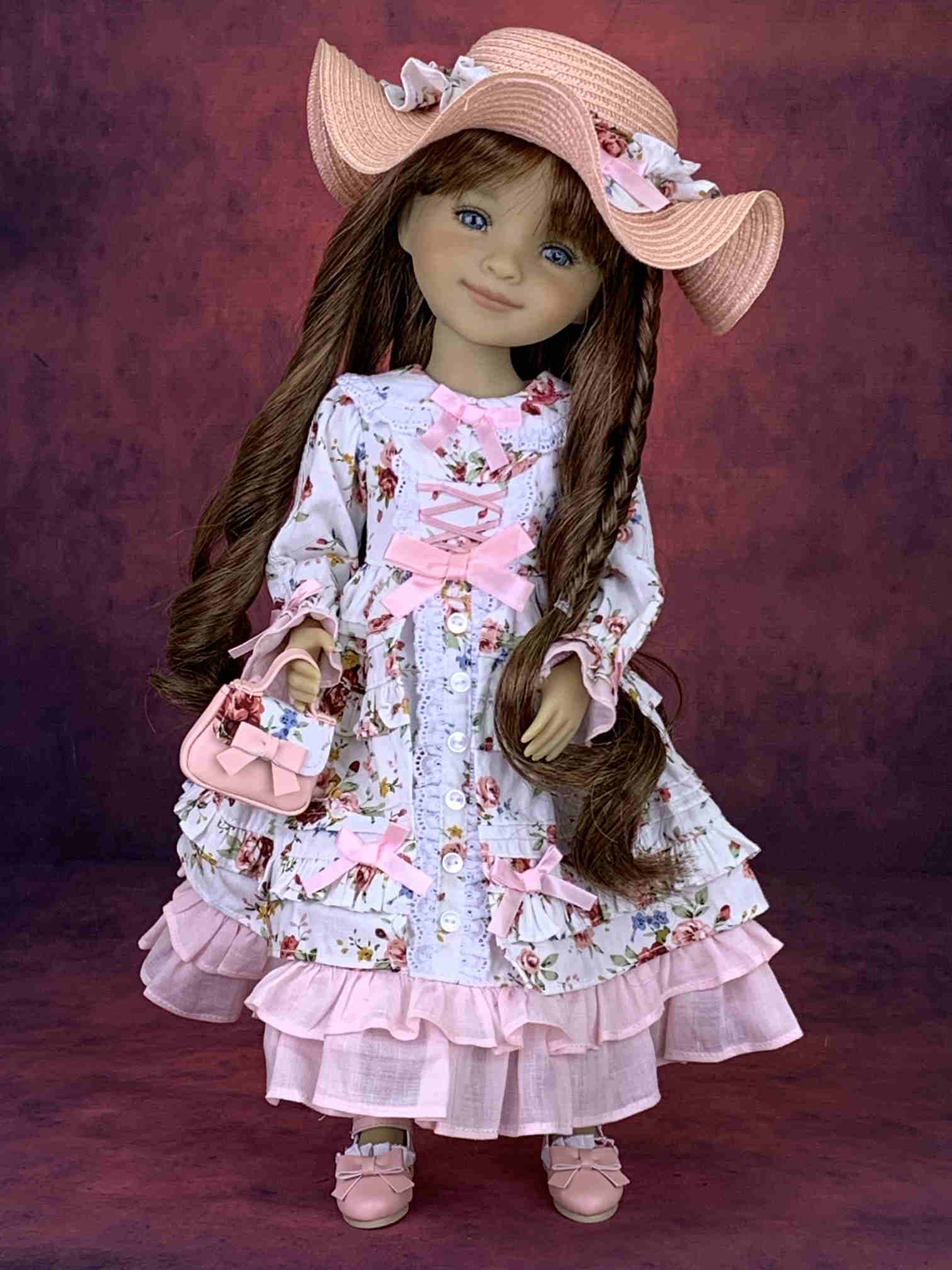 Cozy Vactaion Bella (May 2021 Limited Ed.)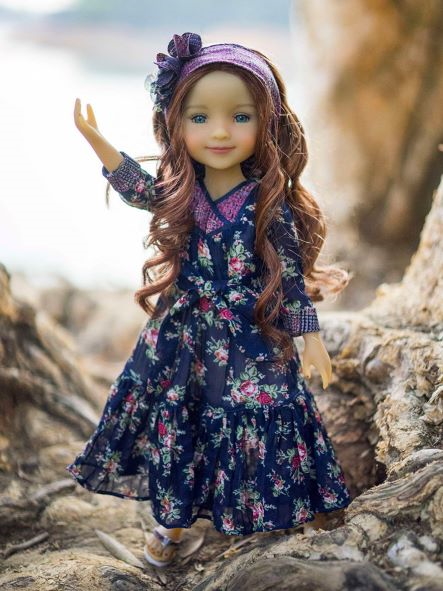 Bella looks great in different outfits!
The next original Fashion Friend is Think Happy Thoughts Hanna. Hanna's message is to look on the bright side of life! She want to foster cheerfulness and joy in all the lives she touches. Her 'Think Happy Thoughts' slogan is also emblazoned on the front of her shirt, to centre her important message. The light and floaty design of her top also reflects the breezy attitude Hanna holds towards life. Hanna channels this optimism into her passion, dancing. This doll is a role model for anyone who wants express themselves through their art and curate positive emotional responses.
Hanna's outfit includes its own original spin on a classic denim style. Her denim jacket is inspired by Hanna's Asian heritage. It is cut in the pagoda style and has traditional fastenings and a colorful trim. She also wears denim shorts in a lighter wash, displaying the versatility of the signature fabric.
Download a wallpaper of Hanna for your deskop or mobile.
Download a wallpaper of Hanna for your mobile phone.
Let Your Light Shine Sara is the third original Fashion Friend doll. Sara's slogan 'Let Your Light Shine' appears on her shirt, this doll's message promotes being your authentic self and showing everyone the things that make you special. The slogan on her shirt is surrounded by doodled flowers and hearts, reflecting her one-of-a-kind style and personality. Sara's ambition is to bring light through practising kindness and to show kindness to those most vulnerable, because of this, Sara wishes to be a vet in the future and help animals who are in need.
Sara's outfit also includes iconic denim items, she wear both denim jeans and a denim jacket. The jeans are distressed, featuring rips on the front of the leg. Sara's outfit is more playful, allowing experimentation with denim in terms of wash and treatment. Like the rest of the Fashion Friends, Sara has a high-quality, long blonde wig that shines in the sun, just like her! It features two delicate braids and long strands that frame her face.
Let Your Light Shine Sara remains popular with the fans of the Fashion Friends, and has been re-released in multiple Limited Edition outfits. For example, FAO Toy Soldier Sara includes the dolls dressed as an iconic toy soldier, with nutcracker hat golden epaulettes and By The Sea Sara features the doll dressed in a romantic nautical inspired dress holding a cute octopus toy.  
We hope you enjoyed learning more about the very first Fashion Friends, we are delighted the project has progressed to where it is today, and we believe there is a lot more to come! Do you own any of the original Fashion Friends dolls? Would you like to see these girls in more Limited Edition outfits? Let us know in the comments, or email us at [email protected].