Help! How Do I Design My Dream Doll?
Design tips from our esteemed design team
We have just launched our first ever doll design competition, and we want you to be a part of it! Its time to flex your creative muscle and send us your dream doll designs. To enter, all you need to do is post your one-of-a-kind doll sketch on instagram using the hashtag #rrgfulfullyourdreams. The lucky winner of our design competition will not only receive their design fully realised in doll form, but the doll will also be released as a limited edition doll in 2022!
In order to help you design the perfect doll to enter into our competition, we spoke to our expert design team to get some doll designing top tips! Here is their advice...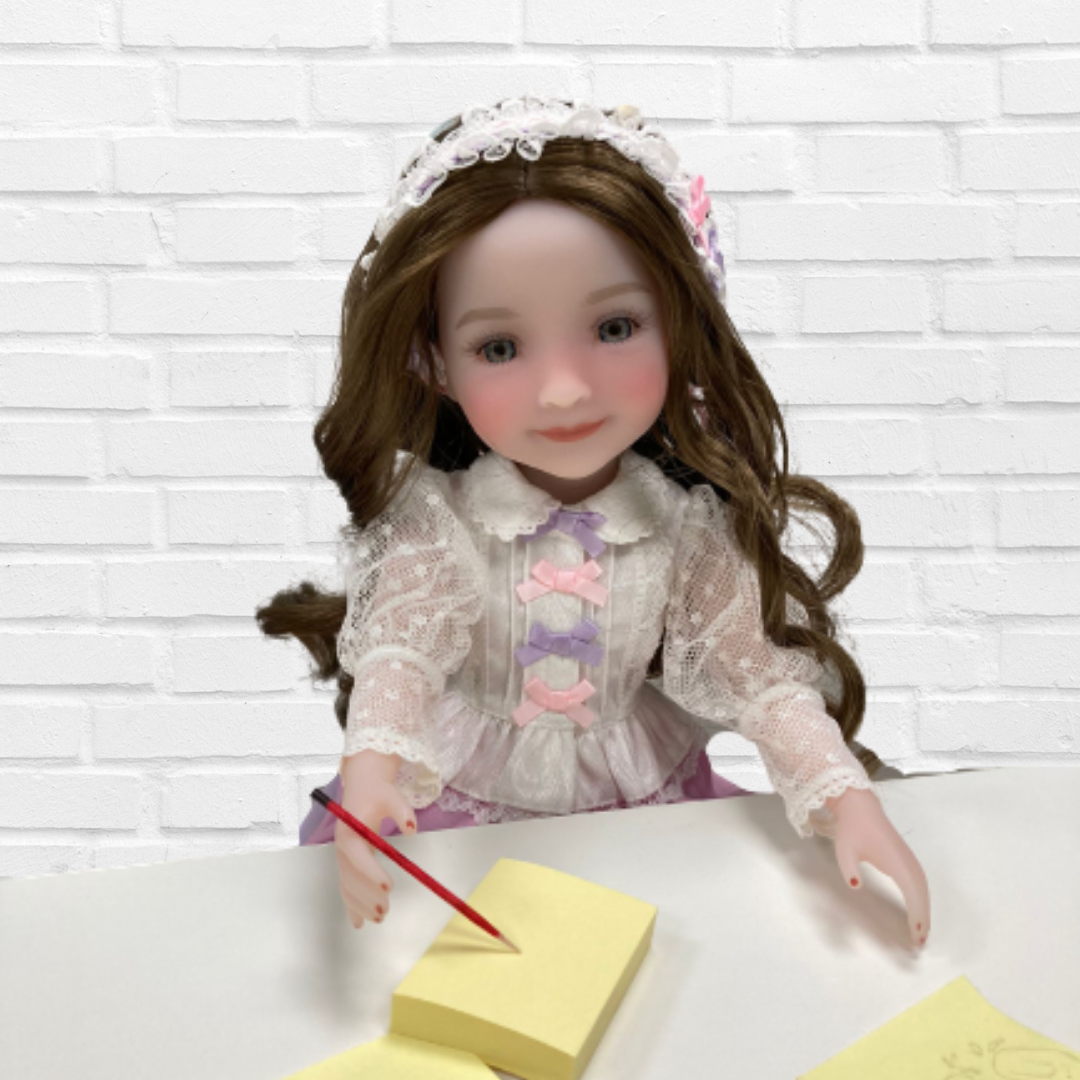 Sara sketches out her first design 
Getting started can often be the hardest part in any creative process. You can jump start your imagination with the right inspiration! Inspiration can come from almost anywhere, magazines, movies, tv, music, even everyday life. Our chief designer, Ruby Ho, often draws from her own childhood for inspiration. Her Ten Ping dolls are directly modelled after her as a child, and all the clothes for the dolls are influenced by memories from her youth and the fashion of 1950s Shanghai. Lots of designers make a mood board including all the images and ideas that have inspired them before they create their own designs. Make your own mood board by looking through magazines and curating images that you want to influence your design.
So your feeling inspired, but before you put pen to paper or turn on your computer, it is a good idea to have a good long think about the kind of doll you would want to receive. You should try and fully conceptualise your design before you even start sketching!  It's important to have a fully realised piece of work with a cohesive and determinate identity. Answering some of the following questions will help you achieve this goal.
First things first- what is your concept? Who or what is this doll supposed to represent? Your design should be informed by the personality of the doll you want to create and the circumstances they exist within. What time period are they from? What culture do they belong to? How old are they? What are their interests? The doll could be a reflection of yourself or it can be something completely alien. For example, your doll could be a school girl in the 30th century living on mars, or a rockstar who bangs the drums, or a Japanese princess. The possibilities are endless!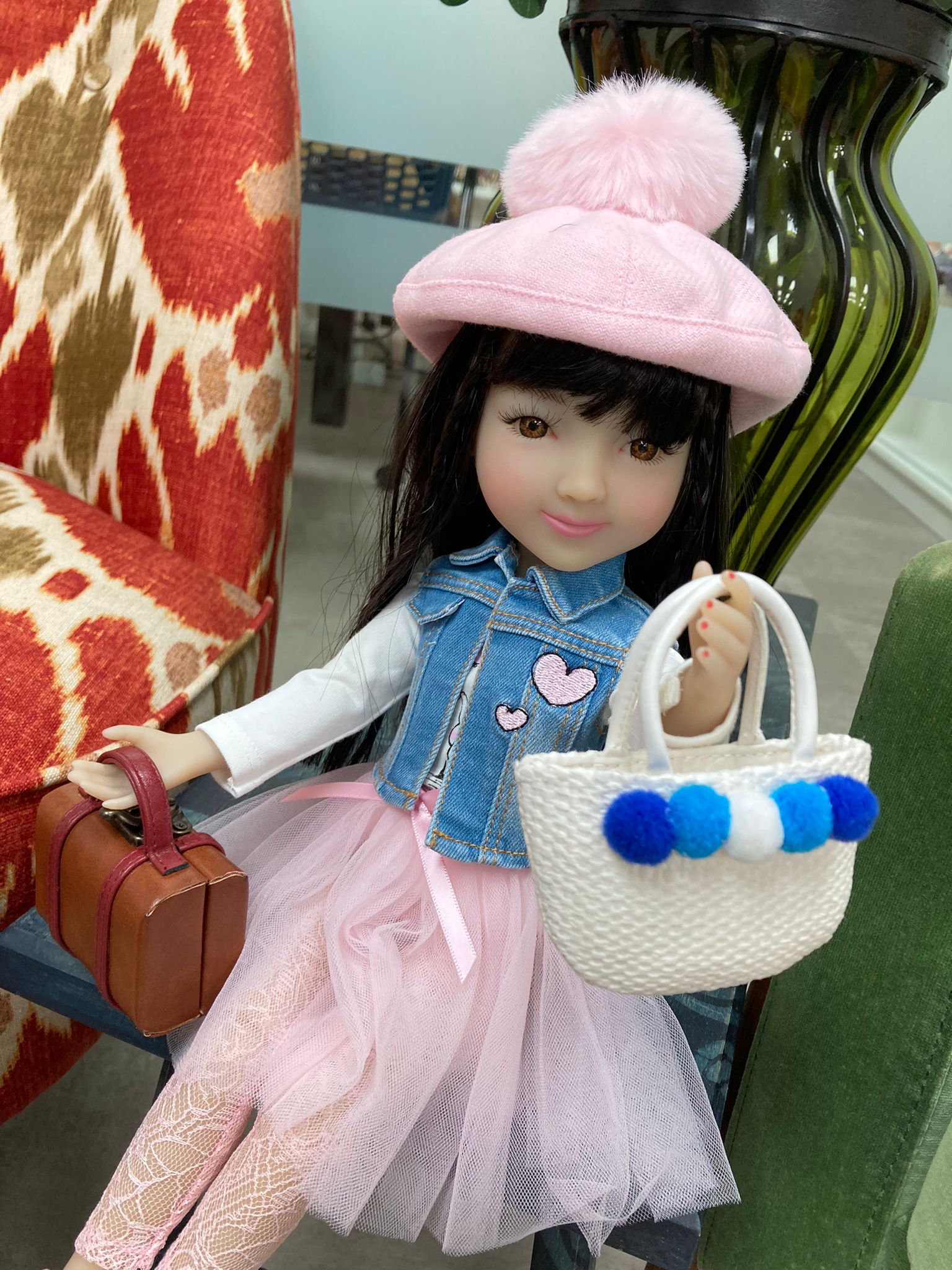 Lila chooses the perfect accessories for her doll
Another important stage of this process is to conceptualize the desired response. What feelings do you want to evoke in the potential owner of the doll? Obviously, happiness and satisfaction are up there, but you can aim for something beyond this! Do you want the doll to evoke a sense of nostalgia for a bygone era? Do you want it to form part of a cultural exchange, showing the owner something about a culture they were previously unaware of? Dolls are a kind of art form in themselves, and thus can impart powerful emotions and information to those who receive them. As a designer, it is your task to guide this response.
After deciding on the initial concept and gathering inspiration for your doll, you need to think about the style of the doll, obviously your concept will influence this. People often like to see a reflection of their own style in the things they surround themselves with, so it is useful to think about which styles might appeal to your target audience. For example, if you would like your design to appeal to children, you might opt for a vibrant and cartoon-ish style, but if your doll is intended for an older audience you may go for something more classic and understated.
So, you have your concept, you've chosen your style, what next? Now its time to choose a color palette. A color palette is a selection of colors that will inform your design, try to pick colors 4-5 colors that work well together. You can work out which colors are complimentary by looking at the color wheel. Colors opposite each other on the wheel (like orange and blue, for example) are complimentary colors. Complimentary colors highly contrast each other, so putting them together makes them stand out. Equally, you can go for a color palette that involves colors close to each other on the wheel, to have a more harmonious look. After choosing all your colors, its a good idea to put them all next to each other to see how they coalesce together. You can do this digitally or physically, by placing fabrics together or using a color palette tool on the computer.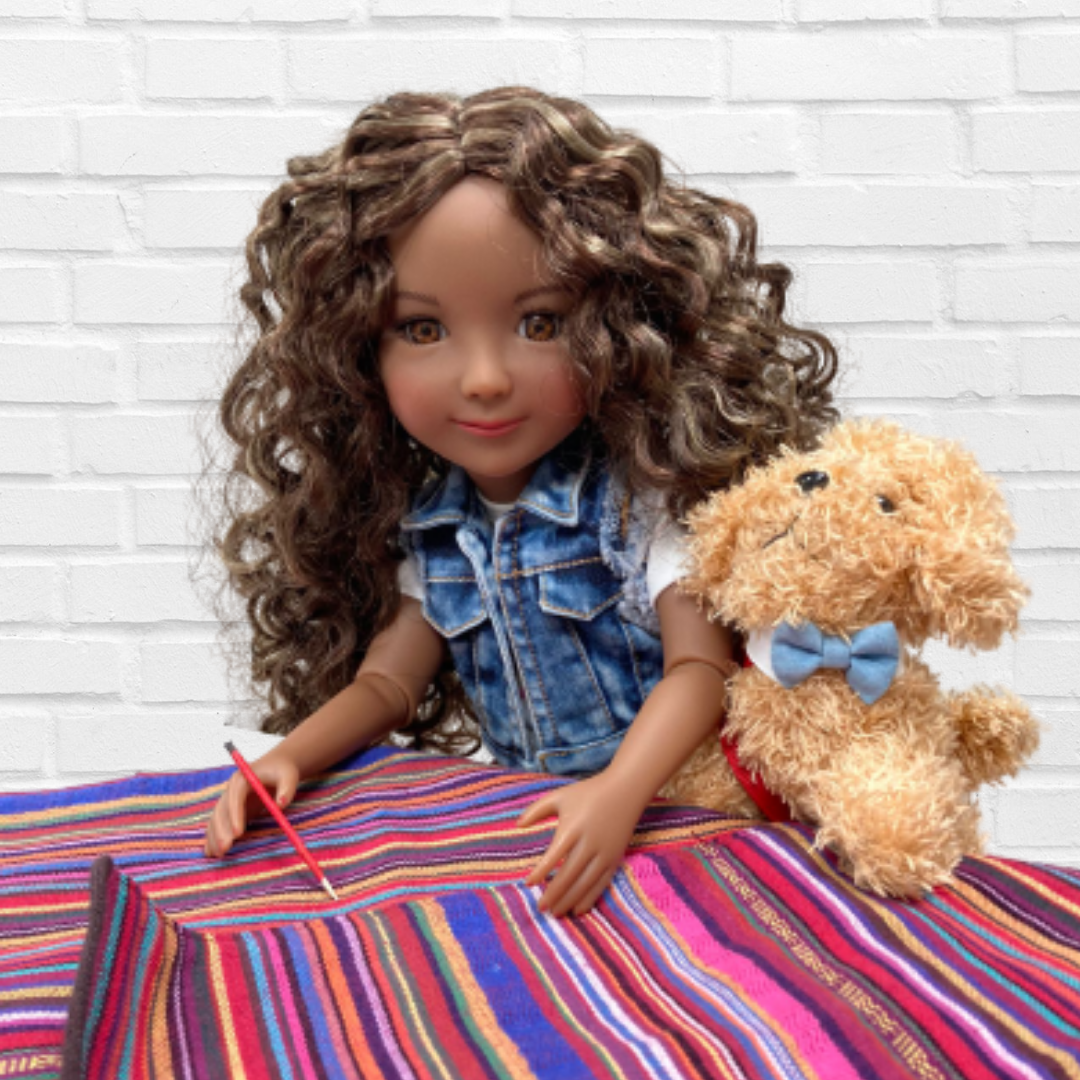 Maya selects a colorful fabric for her design 
Ok! Finally its time to actually get designing. There are many different mediums with which you can create a design. You can do it the old fashioned way with pen and paper, this way is a bit easier if your not too confident with computers. Also, this method allows you to attach fabric samples directly to the design, making it even more detailed. Of course, creating your design digitally also has its advantages. It makes it easier to distribute and it can look cleaner and more visually accessible. Whether you create your design digitally or not, when designing it is important include lots of detail. Labelling different elements with information about the desired fabric, texture, color or pattern will make your design clear to everyone. A further detail that will elevate your design is some sort of  description which brings to light the concept behind the doll. Explain who your doll is, where they live, what they like to do. You could even write a story that comes with the doll!
We hope this advice helps you with your design, if you have any more questions about how to design your doll, don't hesitate to send them to [email protected]. We can wait to see all the beautiful submissions, good luck!